Podcasts are the Millenial's best friend. We all know I'm not the best Millenial, so I was slow to get on-board with podcasts, but after being featured in several episodes of Cast and Spear, I was hooked.
Read about my experience here.
Cast and Spear
Weekly Fishing Tips and Advice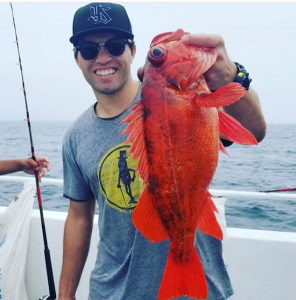 Jon Stenstrom lives in Southern California and offers up fishing advice by bringing in subject matter experts to talk about their area(s) of expertise in both the rod-and-reel and spearfishing communities.
He has some real-life experts on his podcast, including Steve Wozniak (1000fish), but I'm on there, too!
I've filmed five episodes with him to-date. Check them out below!
Episode 1 — Murphy's Law of Fishing

Episode 2 — Catching a 1 in 4 Million Fish

Episode 3 — Your Guide to Catching a Unicorn Trout
Episode 4 — Fishing New Zealand
Episode 5 — The Instagram of Fishing

Keep checking back for more industry partnerships and tight lines!
Please consider subscribing to my weekly column and access my past columns for as low as $1 per month by clicking "Become a Patron" below.