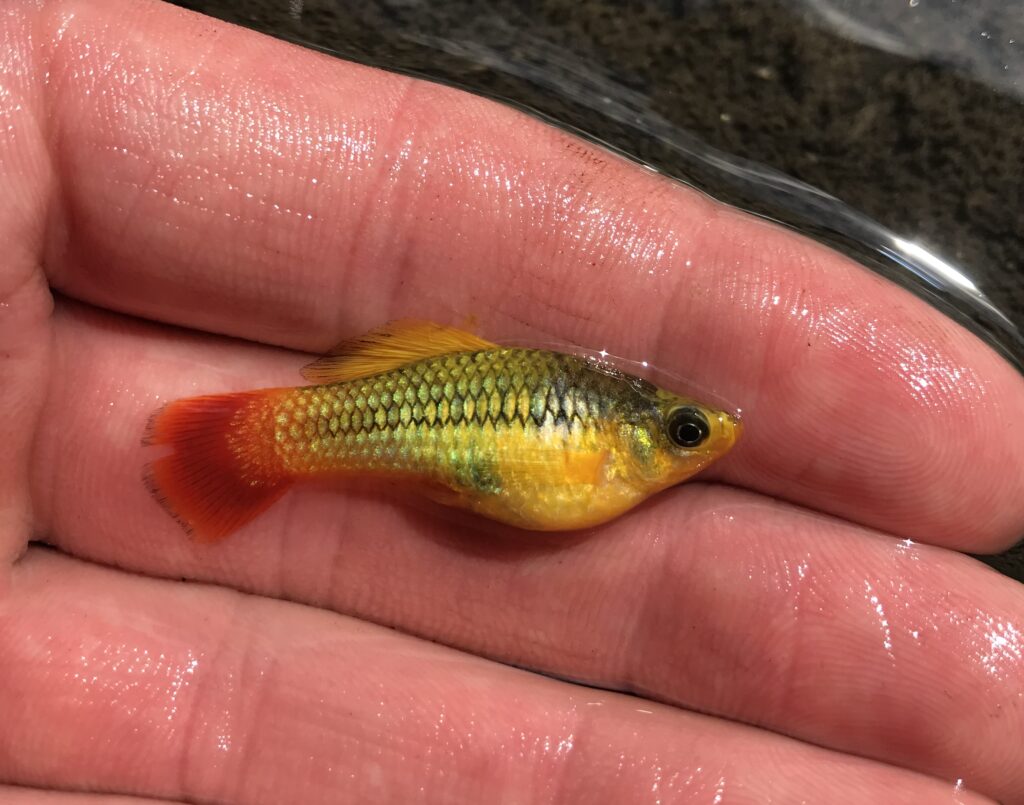 Species: Variegated Platy (Xiphophorus variatus)
Location: Austin, Texas
Date: August 17, 2018
"This is my home!"
"What do you want?"
"Those fish are mine!"
After the first homeless person accosted me in the little Austin park, I should've probably left. I was paying for parking, it was hot, I was hoping to grab a decent dinner in the city before driving back to base that night, but I hadn't caught anything new, and that unfortunate reality had driven me to a high-risk situation.
I'd spent the weekend driving to Dallas to watch my Bengals play the Cowboys, meeting my friends Casey and Emily there on Friday night after work.
Saturday was for football (preseason) and dinner with my friends. The Bengals won, but I failed to catch anything exciting in the Trinity River Sunday morning, so I decided to make a last-minute stop in Austin on the way home Sunday night.
I'd spotted a single creek close to downtown and near the Middle Eastern restaurant where I planned to eat, so I stopped there. It bordered a public park, and I figured it would be a good place to access the water.
If not for the large homeless camp in the park, it might have been. There were dozens of tents, sleeping bags, blankets, and tarps laid out on the lawn of the roughly two-acre plot. Everyone was filthy, some held oddly bottle-shaped paper bags, and one dreadlocked couple I initially mistook for hippies shared a bong. No children played ball, no lovers lounged on blankets. It was a scene I was familiar with in Portland or Eugene — not Texas.
Despite the relative beauty of Austin and its unique culture, vibrant arts scene and great-for-the-South culinary diversity, its homeless problem was comparable to San Francisco, Portland, and Seattle — among the worst I've ever witnessed.
Unlike most of the Portland homeless I'd come across, these Texans were almost hostile. I skirted the edge of the camp with my ultralight rod (this was pre-tenkara Luke), arm in a sling, as I made my way to the high banks of the creek. Thick mud slurped at my flip-flops, and given where I was, I began to worry about needles.
An aggressive man came up to me and demanded I pay for access to his property. I slipped him the $5 bill in my pocket and hoped that would be the end of it. Two others asked for money, and I turned my pockets inside-out, showing my situational poverty. They asked if I had anything else to offer, and I promised them granola bars when I finished. This sufficed, and I was able to slide down the steep banks to the water.
Usually, only piers charge admission to anglers.
Rio Grande Cichlids lurked in the shadows, but in the shallows, mosquitofish and brightly-colored platys flitted and swarmed. The mosquitofish were predictably aggressive, but the platyfish much less so. I put my bait in the face of the three or four platys there, only to have mosquitofish swarm my baits again and again. I caught more than 50 mosquitofish, gently tossing them far away from my position in hopes of thinning the swarm.
Eventually, I did get a platy, but it unhooked itself before I could get a picture. Annoyed, sweaty, and $5 lighter, I was fixated on catching one of the platyfish.
My reservation at the restaurant was drawing closer, so I was feeling the pressure. Finally, I got one.
I snapped a few pics, looked around for anything else, and then moved to the shadows of the bridge, my toes squishing into the soft mud. I caught a ton of tilapia and Rio Grande Cichlids before realizing I'd probably caught everything present in the small stream.
No shortage of filth coated my legs as I ambled up the steep slope, I paid my granola bar debts, and moved on to a dinner full of hummus, babaganoush,  pita, and lamb. Baklava topped it off, and I returned to base with time to spare.
Please consider subscribing to my weekly column and access my past columns for as low as $1 per month by clicking "Become a Patron" below.