Klamath River, OR
Trip Date:  October 12, 2014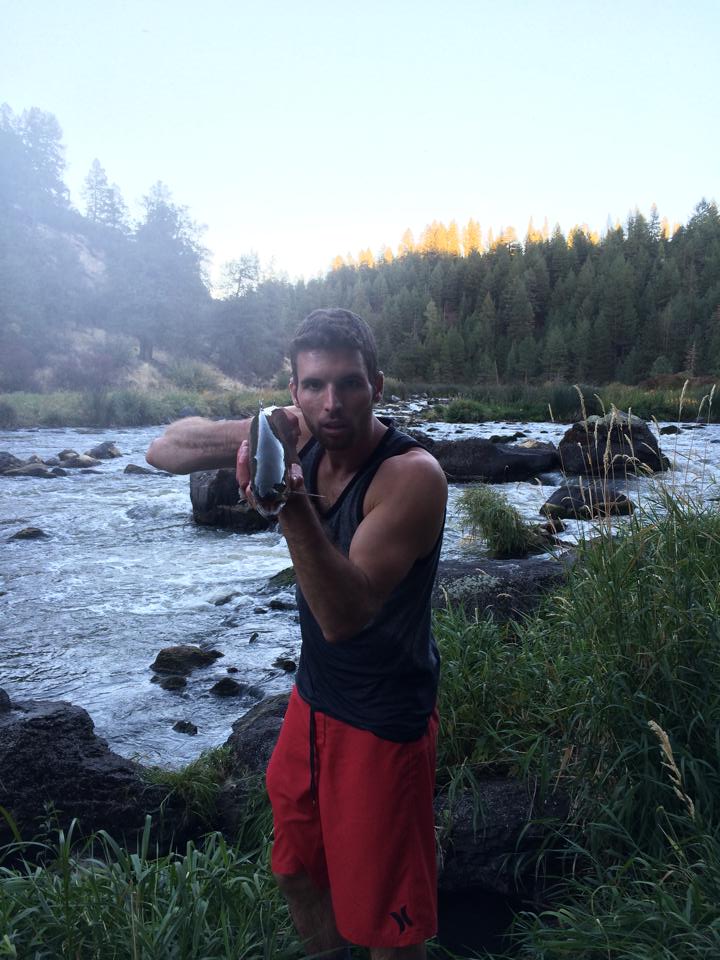 The Klamath River is magical in October.
The mornings are crisp and cold, and until the sun hits the water, your line will freeze if you take too long between casts.
The afternoons are warm enough to shed the sweater and pants in favor of Hurley board shorts
and a tank top. The water, aided by thermal inertia, is still unconvinced of the changing seasons, still clinging to the last vestiges of summer, even when the air turns cold, so you can wet wade in relative comfort.
The evenings sneak up on you, and before you know it, you're enveloped in darkness as the frost returns to the canyon.
The Klamath — in early October — is, without a doubt, my favorite place to fish.
***
I first fished the Klamath as a kid with my Dad and my brother Jake. We fished just below the J.C. Boyle Dam, and landed one nice fish apiece.
***
Years later, on the day before high school graduation, several of my senior classmates and I headed to the stretch below Keno Dam for the first time. Five minutes in, and my friend Shawn Elliott hooked into the first of many huge Klamath River Redbands to follow.
Since that day in 2008, I've learned so much more about the river: where to fish, when to fish, who to bring with me … and where, when, and who not to.
***
In the fall of 2014, I went further upstream than ever before, finding great success through unconventional methods.
For years I'd wet-waded, donning board shorts and Vibram Five Fingers shoes (okay, they look ridiculous, but no other shoe allows you the sensitivity necessary to safely wet wade the Klamath). I'd routinely get knee-deep in the water to access my favorite spots, but in 2014, I took it to another level by going chest-deep and half swimming, half bouncing off the bottom to get where I wanted to go.
The flows had been low, and I used the giant boulders in that stretch of the river as current breaks, so I wouldn't be swept away.
With my rod between my teeth, I accessed parts of the river no flyfisherman in waders would dare go; places only those rafting down the river could access.
It paid off, too.
In my first four trips (October 1, 4, 5, 11) that fall, I landed 50 fish, 10 of which topped three pounds.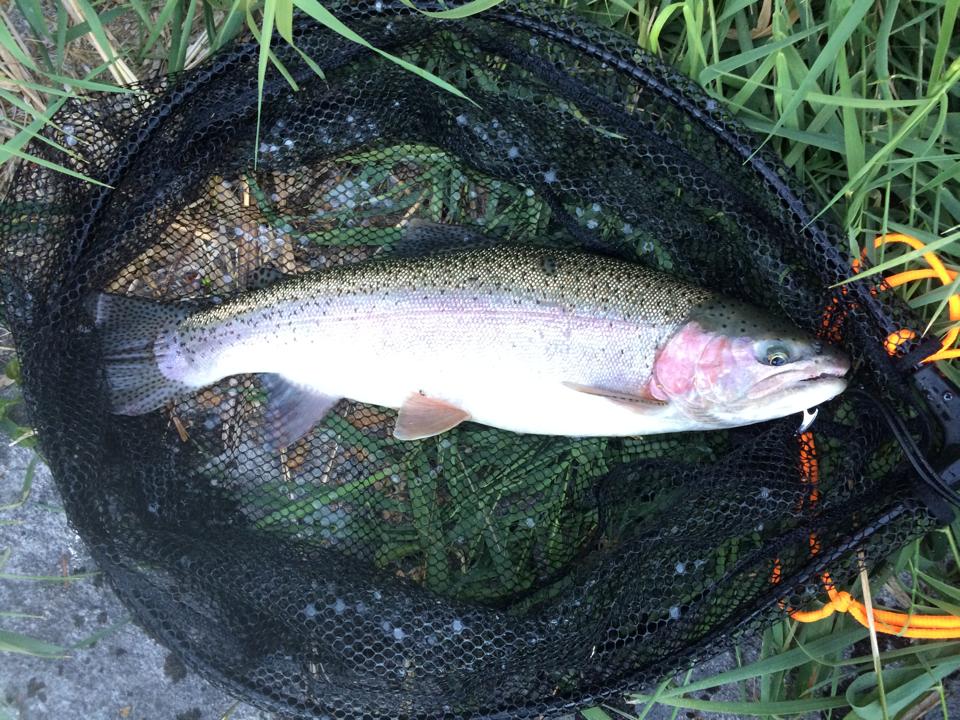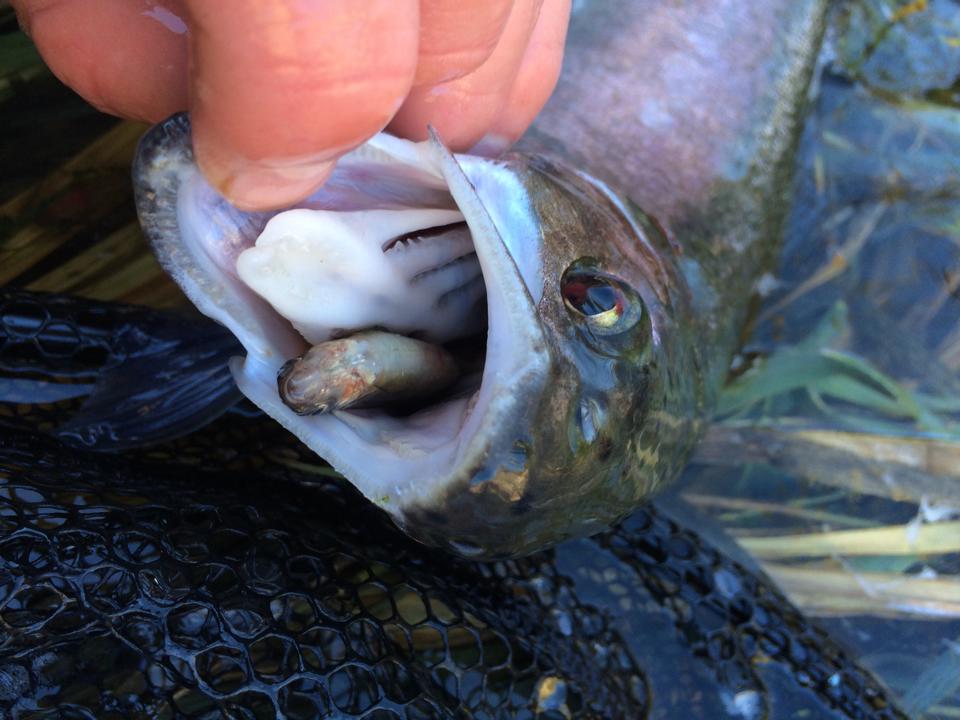 So, on my next trip down, October 12, I expected the same results.
I caught fish, but not as many or as big as I had the days before, so I decided to make an adjustment.
Rather than slowly work my roundabout way across the river like I had the days before, I decided to try going straight across.
I made the logical choice: cross at the narrowest part of the river where river otters always rafted down in groups. Sure, it was a fast run, but only about mid-thigh deep most of the way across, and a rock in the middle could be my checkpoint. From there, I could get to the large, weedy island that split the river in two.
Two steps out, I slipped and almost ate it, because I was sore.
Side Note: Fishing the canyon how I do is a workout equivalent to running a few miles after leg day. I run several miles down into the canyon, walk along the rough and rocky shore, wet-wade by bracing myself against rocks in the current, then hop from rock to rock and occasionally do a little free climbing on the small cliffs in the area with the rod in my teeth.
It's a rush, but it takes a toll on your body.
Machismo propelled me forward. I made it to the rock and took a break. I let my lure hang in the current and caught a little guy. Well, he was about 1.5 pounds and 15" long, but that's a little guy for the Canyon in October.
Strength returned to my legs, and I took a step.
I felt the moss, but overrode my better judgement and committed my weight to it.
Bad call.
As my foot slid out from under me, the current rushed along at almost 1150 CFS (about 150 cubic feet per second [CFS] faster than the day before), and pushed me over.
"Profane," I cursed.
I'd spent enough time fishing and rafting to know what to do. I put my feet out in front of me as the current had its way with my body. I kicked hard while keeping my knees bent, pushing myself back into the current to try and steal an opportunity to get back onto my feet.
After a few tries and about 200 yards of drifting, I finally got to my feet.
I promptly fell over again, but my struggling had gotten me close enough to shore to flail/doggy paddle the rest of the way.
Exhausted, wet, bruised, and insulted, I used my hands to part the thick curtain of reeds along the shoreline of the island.
Gasping and shivering, I was still hunched over, hands on my knees.
I took a step and started to look up just as I noticed a yellowjacket land on my leg.
My hand swatted it away, but I looked back down to see it had been replaced by half a dozen more.
The next second passed by slowly as I realized the gravity of my situation.
Then, they started stinging me.
Desperation replaced exhaustion as I tried to sprint away while slapping them off my legs, my neck, my ears, my cheek, my arms, and my hair.
More than a dozen stingers found purchase in my skin before I'd gotten out of the danger zone and killed them all.
I'd stripped down to my underwear in the hundred-yard run over broken, rocky ground, stubbing my toes in the barely-padded shoes, but at least I'd had the presence of mind to hold onto my rod.
My body screamed out in pain. Each step caused more pain, but more excruciating were the stings on my face, neck, and worst of all, just inside the hairline on my temple.
I was in agony as I redressed, pounding each article of clothing with my fists and shaking it out before putting it back on.
As I prepared to walk back towards the water, my feet got tangled up in fishing line. My fishing line.
I'd grabbed my rod, but somehow managed to open the bail and hook the grassy ground right where the nest was.
I pulled on my lure, but it wouldn't come free.
The last glimmer of hope went out.
I begged, pleaded with those damn hooks, but they wouldn't budge.
So, I snuck up to the underground nest.
A.
Few.
Steps.
At.
AHHHHH!!!
Just kidding. I didn't get stung again, but I was terrified I would.
I got the lure, limped over to the far side of the island where I'd been trying to go all along and fished until the headache became unbearable, catching two more fish over two pounds.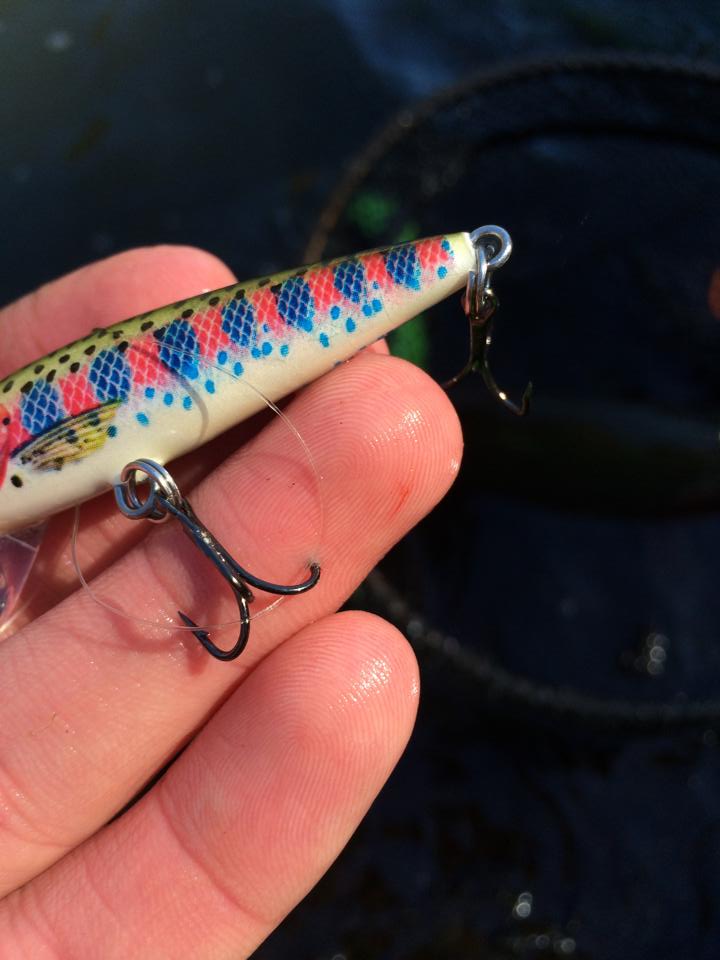 I also hooked one that would've topped five pounds, but it jumped, throwing the hook. Unfortunately, my line was tight, and it threw the hook right at my face. With my (dead) cat-like reflexes I was able to grab the projectile before it hit me in the eye, but it buried itself deep in my finger.
It just wasn't my day.
This happens a lot when trying to unhook big, toothy trout, but usually they're flesh wounds. This was deep. One of the three trebles was buried up to the shank (about 3/8″ on this specific lure) of my go-to Countdown Rapala
.
Using pliers, I took a deep breath and only cried a little as I pulled the hook halfway out. I paused to brace myself for the hard part: getting the barb out, but decided to stop and take a picture at that moment, because, why not, right?
One more pull, and it was out. And bleeding. A lot.
Realizing the next injury would probably result in the loss of a valuable appendage, I decided to call it a day.
Crossing back over the river was not fun.
Each time one of the stings got wet, it was like being stung again. To make matters worse, in the hour or so I'd fished, the water seemed to be flowing even faster.
This time, I made no efforts to be cool or macho. I just put my rod in my teeth and swam across.
I sat down on the grass and tried to bleed myself to sleep, but I was getting too cold, so I began the four-mile uphill track back to my car.
***
I'd stepped on a hive at the river several years earlier (and once while grouse hunting as a kid, but that's another story).
The lone sting from that first faux pas at the river was on my wrist, and that yellow jacket must have been in an animal carcass, because the sting became terribly infected and ended up leaving a scar I still have.
***
Mercifully, none of the stings from my terrible near-drowning, yellowjacket mauling became infected, but the headache was so intense for a week that I could hardly sleep, and typing with my impaled finger wasn't exactly fun.
But once the headache went away, and my energy returned, I was right back out on the river. Albeit one scar — the one under my left eye socket — heavier.
Because, it was the Klamath River. In October.
#CaughtOvgard
If I hooked you here, keep reading. Check out my Species Quest!