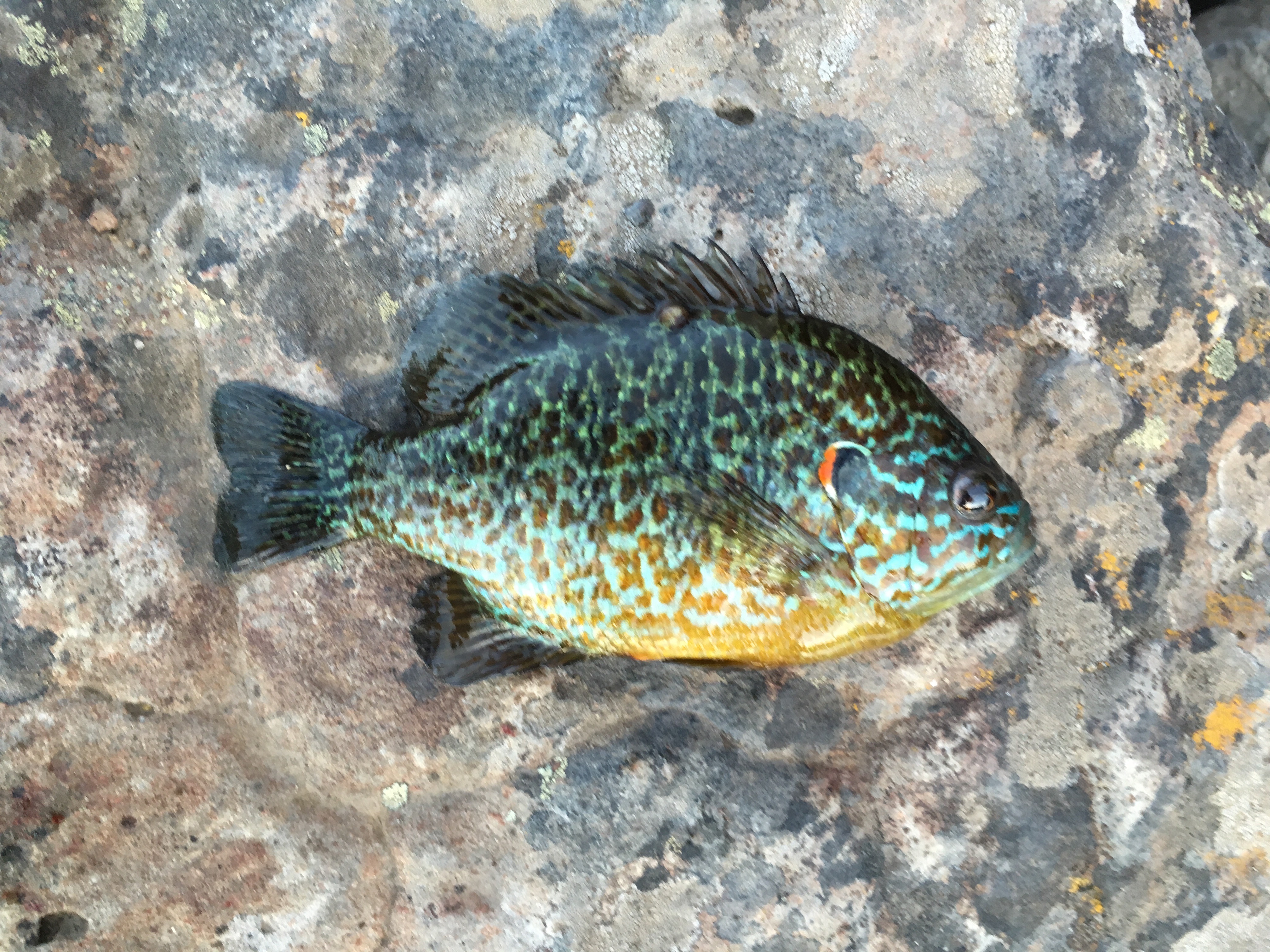 Species: Pumpkinseed (Lepomis gibbosus)
Location: Lost River, OR
Date: June 18, 2005
Lost River is so named because it bubbles up out of the ground, wanders around for 60 miles, then goes back into the ground not far from its origin. It is rumored to have once held a great Redband Trout fishery, but those days are decades behind us.
Today, Lost River is a weedy cesspool, polluted and overgrown from countless tons of fertilizer and other agricultural runoff. No fewer than a dozen fish species have been captured in the river — most of them invasive — so while the fishing may not be great, it's one of the best places in Klamath County for a truly surprising fishing experience.
***
Big Springs Park in the heart of Bonanza is one of only a handful of places along the Lost River that provides public access to fishermen. Now, the Lost River still isn't a mecca for fishermen, but when the conditions are right, it can provide a lot of small, forgettable fish.
That sounds negative, but unless small catfish, sunfish, perch, or chubs are your thing, Lost River will disappoint you most days.
But, on that warm summer day, it had me enamored. Below a tiny wooden dam, I watched as a handful of small fish sunned themselves at the edge of a large shadow cast by the footbridge above.
This was years before I'd discovered my now go-to ice fishing jig, the Bergie Worm Jr., for all fish Centrarchidae, and I was using a small red treble hook baited with a bit of worm.
It took some effort, but I finally landed one of the small-mouthed little sunfish.
In my journal that day, I wrote "It was my first Green Sunfish," but it wasn't a Green Sunfish; it was a Pumpkinseed.
Years passed before I actually figured that out, but sunfish mis-identification is a problem so pervasive, I was hardly alone that day.
Pumpkinseed have since become one of my favorite species, and though Green Sunfish do fight harder per ounce than Pumpkinseed, few things that swim in freshwater do.
#SpeciesQuest // #CaughtOvgard
Read the next entry in #SpeciesQuest here: Species #13 — Smallmouth Bass.