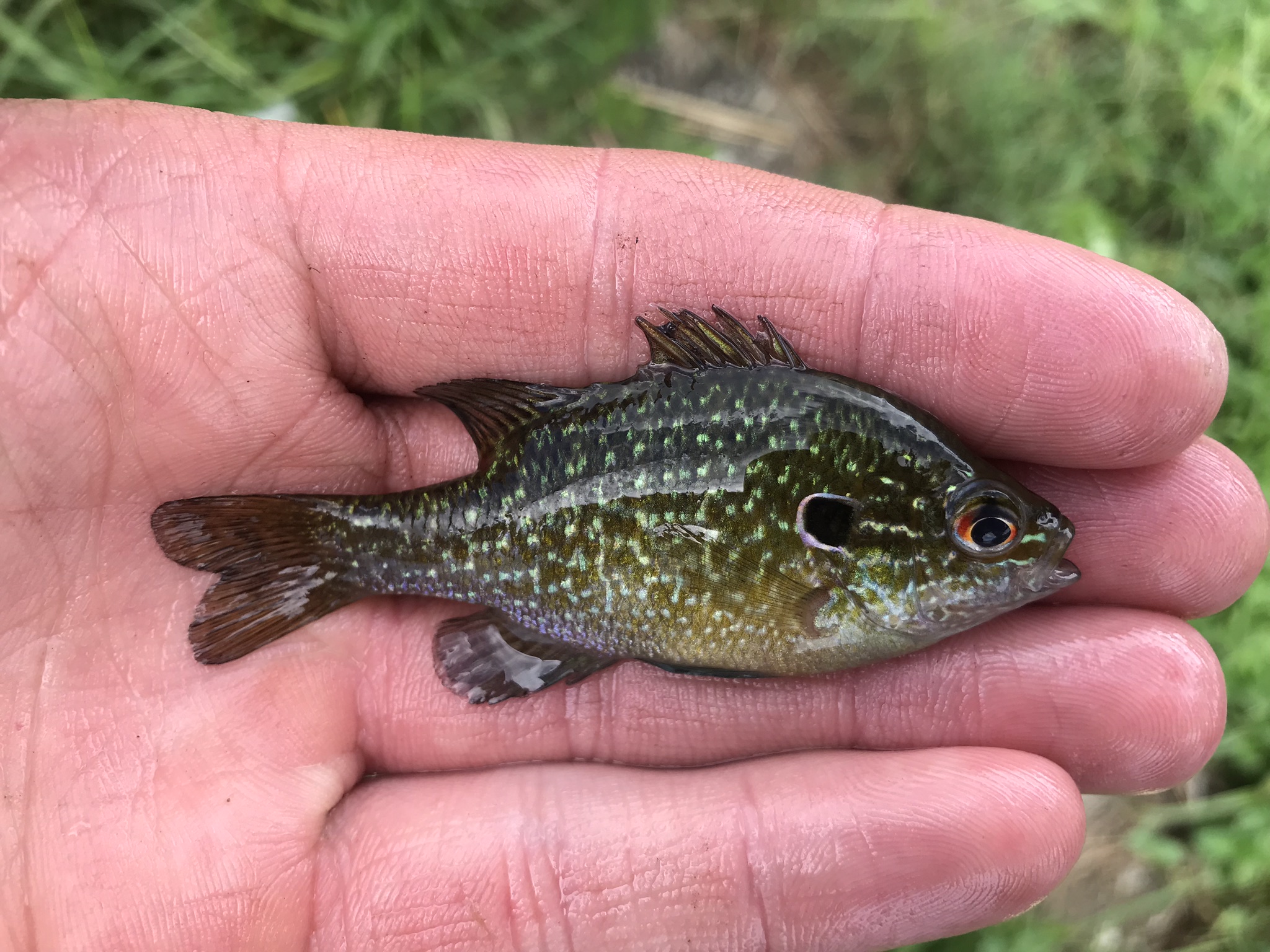 Species: Dollar Sunfish (Lepomis marginatus)
Location: Lake Fran Urban Wetlands, Orlando, FL
Date: July 7, 2018
You don't need to go to McDonald's to find the Dollar Menu because Dollar Sunfish are on the menu for damn near every fish in the Southeastern United States.
In Florida, this means bass and gar and Bowfin, as well as the myriad exotics that prowl the reclaimed waters and swamps of the Sunshine State are looking for ways to make a Dollar disappear faster than Disneyworld.
Fortunately for me, a friend told me where to find Dollar Sunfish, and his directions were right on the money.
If you'd like to catch a Dollar Sunfish of your own, look no further. The buck stops here.
These pretty little fish were somewhat rare in open water, but I found Dollars to be especially common in one type of habitat: close to the bank. Go figure.
The heavily vegetated shoreline in a host of waters seemed to fill a unique niche for Dollar Sunfish. Scientists have yet to write a whole lot about this behavior, but that's likely because more has been written about the Dollar by economists than by icthyologists.
Mysterious behavior aside, most of us are just happy getting our money's worth, so the Dollar retains its aura.
Considering they top out around six inches, they're not seriously targeted by anglers, but they are popular with other fishes. It's no wonder these little fish hide in the shadows; they're so perfectly snackable that most predators eat off the Dollar Menu in Florida.
***
I didn't see any in the water, but I knew they were there.
At first, I tried micro gear and managed to catch a few. It felt like a scene out of Little Rascals or a GEICO commercial, me sitting there with a Dollar on the end of a hook, flopping around in the wind.
Nobody came to try and steal the Dollar, though, so the comedic potential of the situation was wasted.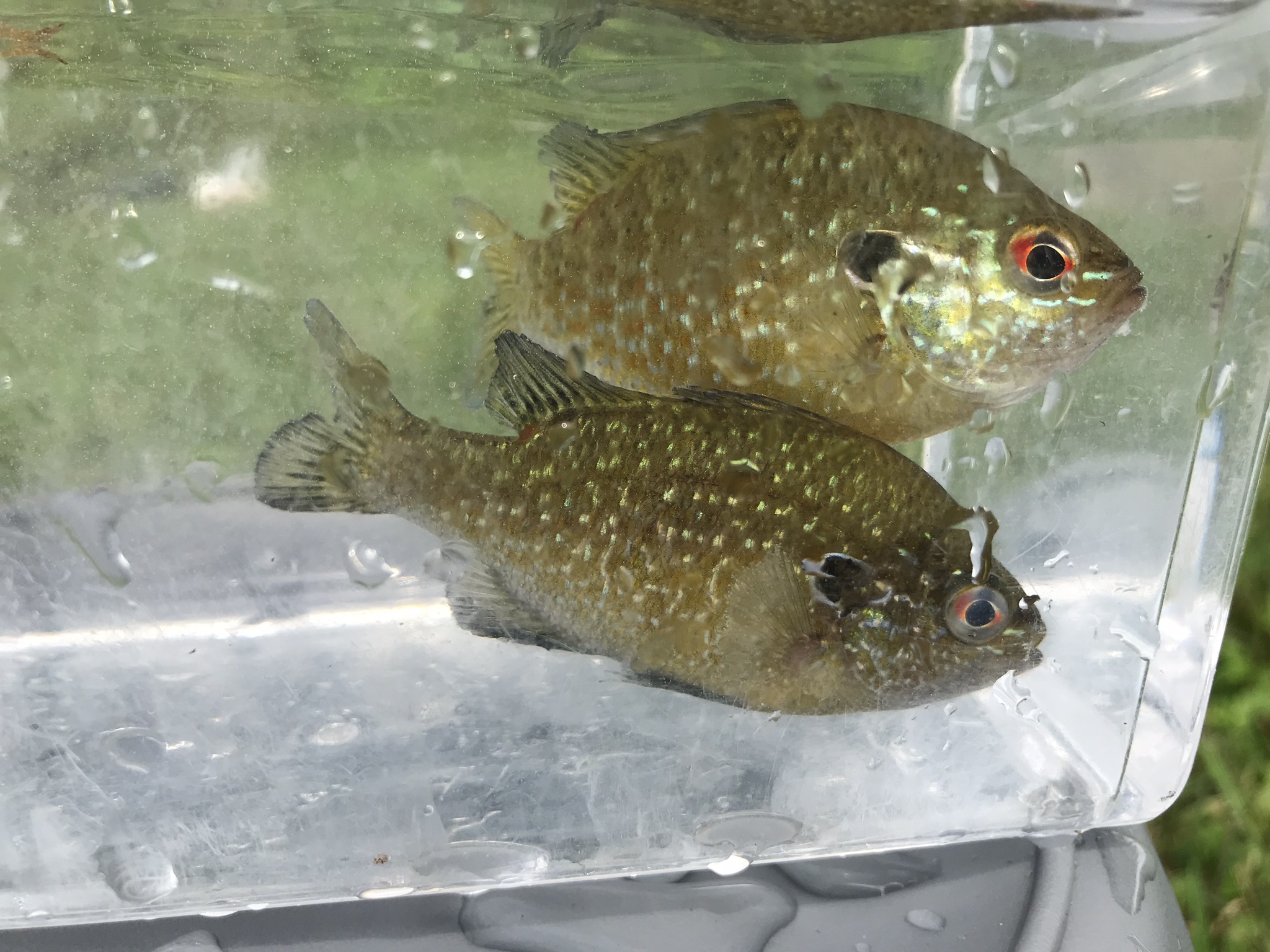 There were a lot of other species nearby that I had yet to catch, so I stopped chasing the almighty Dollar after palming half a dozen.
It was insanely hot and muggy but I had no plans to take off anything more than my shirt in pursuit of a single Dollar, so I turned on a dime and decided to chase something else.
After all, time is money.
***
The trip wore on.
Though one Dollar by itself didn't seem very valuable, I invested a few Dollars in other liquid assets in pursuit of larger fish. I learned the true value of a Dollar when I managed to catch my first Bowfin using a single Dollar. Haha, single.
Wallet may be okay to spend a few Dollars here and there, as I did in pursuit of Bowfin, I found it beneficial to save every Dollar I could. Un-American though it was, I saved almost every Dollar that came into possession rather than turning it into blood money.
Everyone knows it's a bad idea to bet your bottom Dollar and letting most fish go keeps the population healthy.
Nonetheless, after a long day of saving one Dollar after another, it was I who was spent. So I cashed out and headed to a restaurant to grab some much needed food.
***
The moral of this story is that a Dollar can go a long way. I hope this tale of Dollars made sense, but don't call me a writer. When I hand out knowledge about the Dollar, I like to be called a teller.
I'm not a rude person, so let me leave with a five-Dollar tip, or rather, five tips about Dollars. If you follow these, I promise you won't wind up a day late and a Dollar short:
1) Dollar Sunfish are small, and one Dollar doesn't go very far, but a bunch of Dollars, working together, help to feed a lot of hungry fish. They're an incredibly important part of the ecosystem, and each Dollar plays its part.
2) For just one Dollar per day, you can probably feed yourself in Florida. Bowfin, bass, and gar will all happily eat one, and then you can play the next part in the food chain.
3) This is about the only Dollar you won't see at church. They simply don't get large enough to make a good a fish fry.
4) If you didn't like this column, I apologize, but I have to churn out stories and sometimes I get complacent and just look at work like it's another day, another Dollar.
5) If you like fish puns, check out my blog, www.caughtovgard.com. It has a ton of other, typically shorter stories about fish that are pretty interesting even if they don't fetch top Dollar.
#SpeciesQuest // #CaughtOvgard
Read the next entry in #SpeciesQuest here: Species #137 — Seminole Killifish.