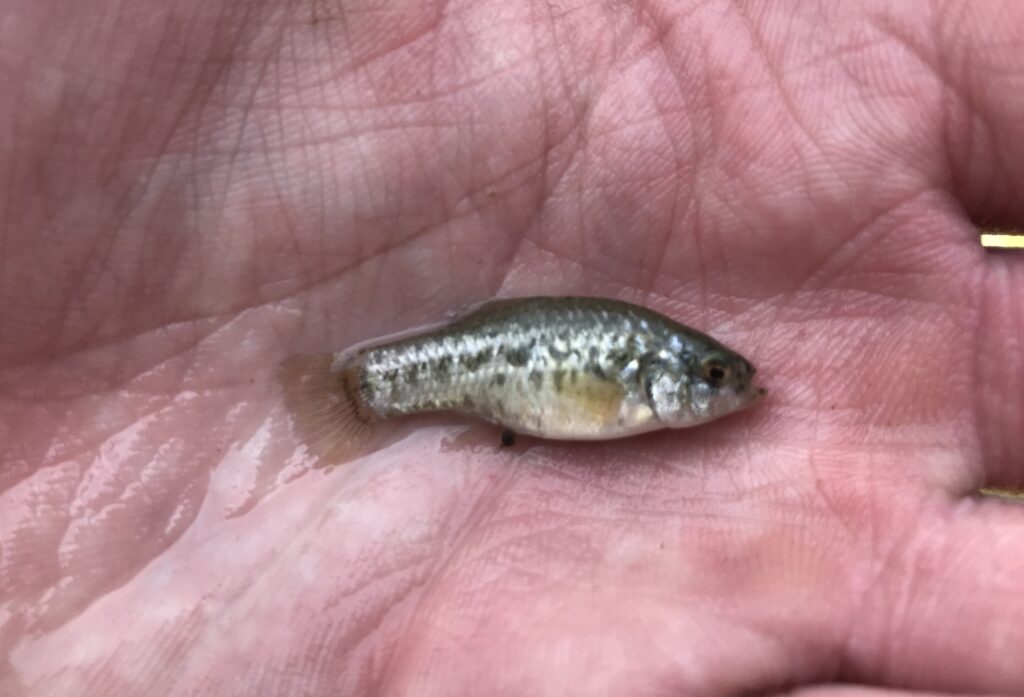 Species: Desert Pupfish (Cyprinodon macularius)
Location: Undisclosed Location, American Southwest
Date: August 8, 2018
Since the inception of Lifelist Fishing, its early leaders shared one common rule: publicly pretend protected fish don't exist. If the reasoning were "Avoid protected fishes at all costs," I'd be totally fine with that. I'm all about conservation and doing what it takes to protect fish and fisheries, but that's not their reasoning, and in some cases, it's not what they're practicing, either.
Some Lifelisters go out, catch endangered fish on purpose, and then just pretend it didn't happen. Not only is this dishonest and hypocritical, but it's also a wasted opportunity to educate the public. There was a time where I was one of them. Following the advice of a friend I caught and released an imperiled species and pretended it didn't happen. For a time. Eventually, I realized that (1) I probably shouldn't have done it in the first place, and (2) whenever I came across protected fish in the future, I would share their story. I would post pictures and raise awareness for a fish that is likely slowly slipping into extinction because of relative obscurity.
Most imperiled freshwater fish are not fish people have heard of; they're micros with niche habitats, rough fish, and the species that have never been on a magazine cover. These are the fish that most need the help of anglers and the financial, legislative, and conservation powers they wield. Without making anglers see their value, they will be lost forever. In my home state of Oregon, between 20 and 25% of all funding for natural resources comes from fishing license and tag sales, making recreational anglers the largest supporter of wildlife and wildlands in Oregon behind only the Federal government.
It is not until the public learns of a fish that it garners the support and resources necessary to save it. When the Devil's Hole Pupfish was listed as Federally Endangered in 1967 people were still bathing in the spring on occasion. It had no tangible protection and almost nobody had heard of it. Today, the fish is one of the most widely known non-gamefish. Fencing and cameras have been installed around the tiny spring to protect it, and it has never been safer.
This could be the case with other endangered fish if more people knew about them. Why, then, are Lifelist anglers not dedicating themselves to raising awareness for imperiled fish in a responsible way?
Optics
Optics are huge in the world of outdoor sports. Everything we do as anglers is geared around making people notice us, support us, and applaud us for our efforts. Why else would we pose with a fish we caught? It's somewhat unique to the world of hunting and fishing. Golfers don't pose with their scorecard after shooting par. Tennis players don't capture every 40-Love game on film. No, there's some unique and inherent desire as anglers to show off a trophy of our accomplishment.
Taking photographs of our catch is so baked into the sport of fishing that it's become rare to find anglers who don't pose with their catch for a "grip and grin" photo now and then. Tinder (I'm told by female friends) is rife with men holding fish. Admittedly, I'm holding fish in most of my photographs on Tinder. I'm there looking for women, and holding fish in photos is tragically less prevalent amongst female Tinderers.
Say what you will about it, but I question the man who takes a photo where he's not with a woman, wearing a graduation cap, wielding a diploma/trophy/baby, or holding a fish.
Despite the normalcy of photographing fish, early Lifelisting culture made it taboo to pose with protected species. This is not without merit. Using the most stringent interpretations of the law, photographing a Federally Endangered fish after catching one by mistake could be deemed illegal. But what about the Federally Threatened fish? The state endangered or threatened fish? What about the fish that are protected not because their populations are in danger, but merely because the public decided they're pretty (think Garibaldi in California)?
This is where the lines blur, and this is where my pragmatism shines through.
In the most general sense, going out and intentionally trying to catch a protected fish is at best morally questionable and at worst illegal. Despite the fact that many threatened and endangered species are popular sport fish (Bull Trout, White Sturgeon, and several salmon species come to mind), the rules are somehow different when the fish is a nongame fish. Yes, some of these imperiled game fish are broken into Distinctive Population Segments or DPS, but not all of them. Anglers can legally target Bull Trout in several places across the Lower 48, and they can even harvest the Federally Threatened salmonids in Oregon's Lake Billy Chinook. Why is that?
The legal distinction between Federally Endangered and Threatened is made to allow harvest. But are Bull Trout, a fish losing more ground in the Lower 48 really not Endangered?
They probably are, but something far more powerful is at work here: public pressure.
It's not even limited to sport fishing. Endangered Bluefin Tuna and Chilean Sea Bass still find themselves on the plates of consumers worldwide after being rounded up by commercial nets because the public likes to eat them. When the public wants something, it tends to get it. Now, is commercial fishing for endangered fish ever remotely acceptable? Not in my eyes, no. In fact, consumptive fishing (commercial or recreational) for any imperiled fish is reprehensible to me, and I'd even go so far as to ban commercial fishing not done with hook-and-line. But I don't want to broaden the scope of my argument too much by talking about commercial fishing, so I digress.
Though I've fished for Bulls where legal numerous times, I've never killed one, and I can't see myself ever doing so on purpose.
Sport fishing for popular gamefish is totally kosher — even if they're imperiled — but when it comes to catch and release for protected fishes, it's not. Huh.
If anglers are the single greatest influence on conservation in the United States, it stands to reason that angler support — more than anything else — will save our imperiled fish, but in order for that to happen, we need to get anglers to care about these nongame fish in the first place.
Pragmatism
There are several prevailing notions about protected fishes in the Lifelisting community. Some, as I mentioned earlier, have no problem targeting and catching them but would never post a picture. They argue that catching and releasing one specimen isn't going to hurt the population. Which, in all but a handful of instances, is almost undeniably true. But is it ethical to go out and try to do so?
Probably not.
Again, my hands are not clean. I have caught protected fish on purpose, and in every case, I regret doing so. It just puts a bad taste in my mouth. I've caught a lot more protected fish completely by mistake, but I don't feel guilty about it because it was unintentional, and I treated them with the utmost care before letting them go.
Catching protected fish happens whether or not we talk about it, and one of the most inherent risks to fishing with bait is that you can catch almost anything.
I recently conducted a survey of 512 readers of my column. When asked "If you caught a protected fish, would you post a photo of it?" and fully 83% said yes. Just 17% said no, but they had lots of opinions. In my discussions with this very vocal minority, they offered several reasons:
1) Some said they wouldn't want to get in trouble, which, they arguably could in some cases. Some interpretations of "take" suggest even photographing and releasing a Federally Endangered fish you caught could qualify as take, though most wildlife managers I've reported catches to tend to appreciate the picture for data gathering purposes. If you want to risk it and take a pic, that's your choice. Should you do so, keep the fish wet the entire time, handle it with wet hands, never wear gloves, and unhook it and release it as quickly as possible.
2) Still others say they are role models to kids, and they don't want to encourage bad behavior or harm their reputation. To these folks, I would say don't be false. Either do what you believe is right or don't, but don't pretend to be doing the right thing if you aren't. Kids deserve better.
3) Several also replied that posting pictures of a protected fish caught by mistake could lead to the closure of that waterway. This one makes the most sense to me. Open systems are the most likely place you'll catch a protected fish by mistake, as you can't know what will hit a worm, but when you inevitably catch your first protected fish, handle with care, and know there is precedent for closing waters when protected fishes are caught by anglers.
Despite this overwhelming minority, this "Go ahead and catch endangered fish but don't talk about it" still tends to be the publicly acceptable notion in our community even while most Lifelisters disagree with it. That's wrong. I would argue we have it backwards. We should discourage catching an imperiled fish in the first place, but encourage photographing it responsibly and sharing its story with those who can actually help save the it if the opportunity arises.
Consequences
Whatever your stance, that's fine. Despite living in a polarized world where we tend to shun those with different politics, religious views, or whatever else we've used to form warring tribes, I will not write you off because you disagree with me. That's not a healthy precedent. We should not only live with those we disagree with but learn to form common ground. And what better common ground than being in this weird, Lifelisting fishing cult where we try to catch tiny fish nobody else has even heard of?
So just because we disagree on this one issue, don't think I'll think less of you, stop fishing with you, or remove you from my life. If I'm fishing with you, and you're not comfortable with me posting a picture of a protected fish I caught in your presence or at your direction, I won't tag you in it. I won't make it obvious we were together. I won't do what makes you uncomfortable; however, I will eventually post a picture, completely scrubbed of your name and influence, if I catch a protected fish by mistake because I have a following, and I know I can rally them to make positive change in the world if given enough time.
Time is a consideration, though. Part of the reason I waited almost three years to write this story was to distance myself from it.
This was the first endangered fish I caught on purpose. It was indefensible.
A friend shared the spot, told me I'd catch them, so I did. I caught one of these and a few other species in the little stream. It was a place where fishing is allowed, where other species exist, and he said there would be plausible deniability should I catch one. Add to those factors that this fish was locally abundant in the little stream and wouldn't be harmed be a single angler with a micro hook. It checked all of his boxes for "defensible" even while it gave me pause. When I posted the picture to my story as I do with every new fish I catch, he asked me to take it down. I made the argument above, but ultimately relented.
More time passed.
A year later, I went out and became the first person to catch another endangered, isolated micro.  This was my second (and last) indefensible transgression as an angler.
The water itself was not closed to fishing, but there was allegedly just one other species there, which I failed to see. I posted a picture of the endangered little fish, and the same friend who told me where to find the Desert Pupfish, who had caught countless other protected species in places where fishing wasn't even allowed, blocked me. He blocked me on social media and cut ties with me in every way. It was so unexpected that I didn't even realize it for a month.
I confronted him about it, and I was disappointed to hear his response.
His reason? It wasn't that I'd done something wrong (which I had, and I regret to this day), but it was that I posted a picture of a fish I shouldn't have caught, and he was afraid he'd get in trouble for having done the exact same thing with a different species by having a connection to me.
In the years since, I've reached out to mend fences several times. He did finally unblock me this year, but when I followed him, he didn't return the favor and still seemed to be on edge whenever I'd interact with him.
Part of me is disappointed in him. His reaction was hypocritical and over-the-top. But a much bigger part of me is disappointed in myself. I shouldn't have caught those two fish. They remain the only two fish species I've caught that I feel guilty about, and if I could go back, I wouldn't catch them in the first place.
It's not the same as the endangered suckers or darters I've caught when soaking a worm in a river. Those instances were truly accidental. But these two? These two are my greatest shame as an angler even though I released them both unharmed.
So yes, I caught a Desert Pupfish. It was Species #179. A year later I caught another endangered micro, Species #256. Big woop. I compromised my own values and ended up losing a friend over it.
I won't be intentionally targeting imperiled fish again, but when I catch another one by ethical, accidental means, I won't shy away from posting pictures. I will post a picture, tell my readers and followers all about it that I can, and then make the case for its survival. Those of us in the Lifelisting community have been uniquely gifted with this opportunity. So don't try to catch endangered fish; you will regret it. But if you do catch one by mistake, don't forget about it, either. You'll regret that just as much.
Please consider subscribing to my weekly column and access my past columns for as low as $1 per month by clicking "Become a Patron" below.