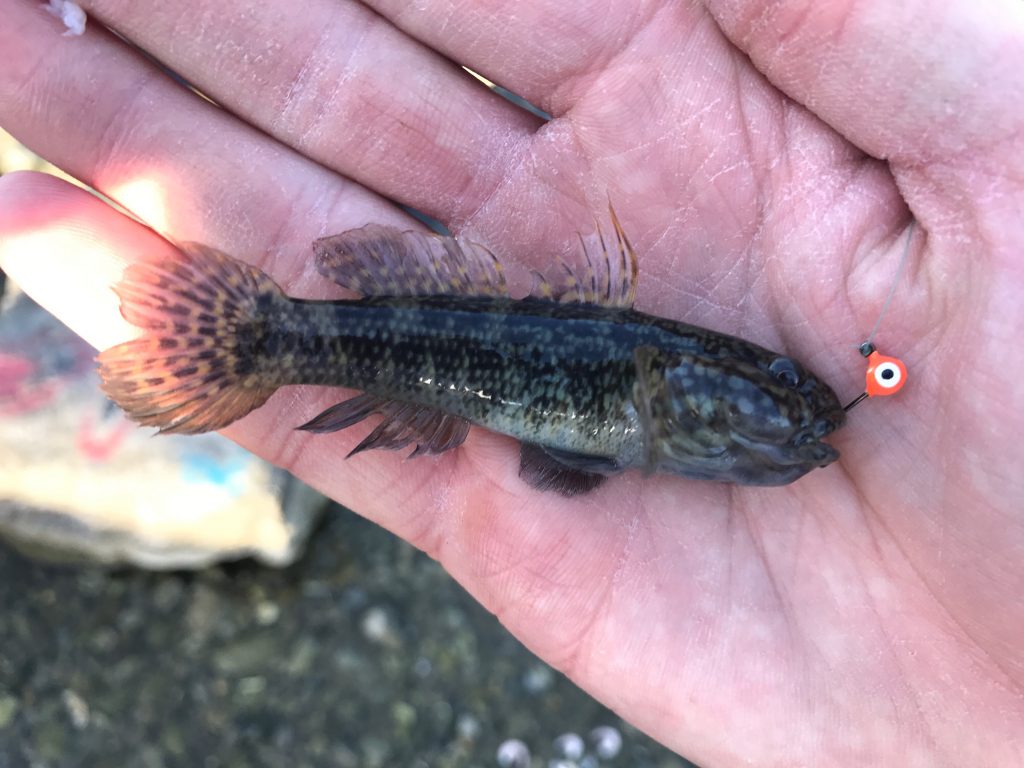 Species: Frillfin Goby (Bathygobius soporator)
Location: Graffiti Bridge, Pensacola, FL
Date: August 1, 2017
This is likely the most aggressive fish I've ever caught. I buy frozen shrimp as bait, allowing a few pieces at a time to slowly defrost in the water to achieve that perfect, almost-frozen-but-not-quite texture that best allows them to stay on a single hook.
Where I happened to be fishing in Pensacola, the shoreline was pockmarked with rocks ranging in size from peas to watermelons. When I plopped a few shrimp in the one- or two-inch-deep water at the edge of the shore, I waded past them and began fishing.
Every time I went back for more bait, I noticed tiny little monsters that could've been fish, eels, or some sort of Floridian parasite greedily attacking my bait. It was broad daylight, the water was shallow, and I was two feet from the shrimp, but that didn't stop the little fishes as they made short work of bait after bait.
Since I had limited shrimp, and the bite was on fire, I was at first upset. I tried digging a little pool a few inches from the shoreline with a rock, filling it with water, and then putting the shrimp there.
That didn't stop the little  beasties, though, as they timed the wave action and used it to propel themselves across the moist, rocky group into the pool and devour the bait only to retreat once the bait was gone.
I was intrigued. This was long before I started microfishing, and the smallest hooks I had were my (roughly) No. 16 Bergie Worm Jr. 1/64-ounce jigs. This is a lot of hook for a three-inch fish, but it proved effective when I put a tiny piece of shrimp on it, and I promptly caught several.
Since I couldn't notice any other types of gobies amassed there in the rocks, once I caught a few, the novelty wore off, and I was back to chasing larger prey.
#SpeciesQuest // #CaughtOvgard
Read the next entry in #SpeciesQuest here: Species #99 — Pigfish.