Species: Klamath River Lamprey (Lampetra similis)
Location: Klamath River, Keno, OR
Date: June 3, 2012
Up until this point in my Blogosphere, every species has been captured directly on hook and line. Every fish was, in fact, legally captured after being hooked in the mouth. I know what you're thinking, and this fish wasn't snagged.
I typically count a new species as long as it was legally captured. For some species, hands and snag hooks are legal. For others, bow-and-arrow, spear, or even net suffice. For Species #41, neither hook nor hand caught it, but it was still a first.
***
Anyone who has fished the Klamath Basin has seen the telltale pockmarks and battle wounds our large native Redbands wear with honor. Many think these are leech marks, and while some of the minor marks might be, most are caused by another type of parasite: lampreys.
Lampreys are terrifying, parasitic eel-like creatures stranger than fiction that would seem to be more at home in the Cretaceous than modern times. They attach themselves to larger fish with a circular mouth full of irregular teeth that cleave to the host and allow the lamprey to suck blood.
Pacific Lamprey is a well-known species targeted by a number of specialty anglers. There are several lesser-known lampreys living in the Klamath Basin that are related to these larger, ocean-going menaces. These include the Klamath River and Miller Lake Lampreys — both of which are virtually never caught by anglers — and some others that may or may not just be subspecies like the lampreys once found in Miller Creek below Gerber Dam.
Regardless, they are neither well-known nor hotly pursued fish.
***
Deep in the Klamath River Canyon, I landed another respectable Redband Trout. As I lifted the net, I noticed a black, writhing mass that I initially mistook for a leech. It was, in fact, a succubus of pescal proportions.
As the black form contorted in ways only a creature possessed could manage, I took a moment to try and photograph the horrendous monstrosity.
It didn't really take, and I wasn't too keen to hold it for any longer than necessary.
I let the fish go and with it, a case of the willies, knowing I'd just caught my first lamprey.
Like many other species I've caught, it wasn't until the trip ended, and I'd had time to do some research that I learned its name: Klamath River Lamprey.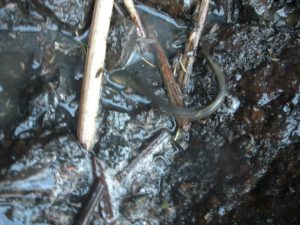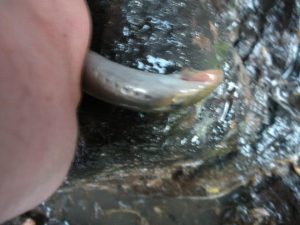 ***
I've netted several with large trout since, and I even caught one by hand that was rooting for hapless prey at the waterline in Upper Klamath Lake. Though all have been 5-7 inches long, I know they get a lot bigger.
While microfishing for sculpins in Link River last month, I noticed a snake rooting in the substrate. Only it wasn't a snake. This fish was every bit of 10 inches long and maybe larger. Its diameter was much larger than a 12-gauge shotshell, and it, too, was a lamprey.
These fish are officially protected, though anyone who has fished the lake and seen their mark will know they're doing just fine.
I've wanted to try targeting them with a bloody piece of meat as I used for freshwater eels in New Zealand, but you're not supposed to target protected fish, and there's really no other justification for using red meat in local waters.
#SpeciesQuest // #CaughtOvgard
Read the next entry in #SpeciesQuest here: Species #42 — Grass Rockfish.