Seal Beach Pier, Seal Beach, CA
Trip Date: June 9-13, 2008
The Pier
The piers of Central and Southern California have a unique subculture. By day, they teem with tourists of all different races and backgrounds, all living completely separate lives. By night, the multi-ethnic tapestry remains, but the occupants of the pier share a common goal: catching fish.
When four or five white boys from rural Southern Oregon walked onto the Seal Beach Pier in June of 2008, every head turned. Broken English paired with Vietnamese, Spanish, Russian, and a host of other languages I couldn't place, mixing with the acrid stench of cigarettes from every group.
We walked around the pier, looking at everyone's respective catch — almost exclusively White Croaker and various species of surfperch — before a guy hooked into a respectable fish.
We stared intently as he fought it for five, ten, fifteen minutes. It broke the surface almost 30 feet below, and he identified it as a skate. He said he had no desire to eat it, but many Asian fisherman did, and we'd be more than welcome to keep it. We were thrilled at the possibility, but just as he got to the end of the pier to land it (a major feat, considering it was nearly half a mile long), it broke his line.
With that, the rest of my classmates decided to head back, but I remained fixated.
I stayed out until almost 3:00 a.m. that morning, watching, learning, fishing. It made getting up for Six Flags three hours later especially difficult, but I would spend the next four nights doing the same thing and not regretting it one bit.
*****
The Charter
One day of the trip included a charter fishing excursion, which I had looked forward to for years.
In fact, I'd led the class fundraising efforts throughout high school, starting a concession stand for junior high sporting events, then, seeing its success and noting that hot lunch was only served at our school three Fridays a month, starting a snack bar that served microwavable lunches and snack items like candy bars
once a week. It did quite well.
As our funds grew, we rolled into senior year. One of my best friends, Tony Maddalena, and I, had been given three pages of yearbook ads to sell. We sold about three times that many.
All told, our efforts had resulted in more than $12,000 that we could put towards the trip, but all I cared about was what would become my first-ever chartered fishing trip.
The opportunity to choose a half-day or full-day trip day came, and everybody wanted to do a half-day trip. I was crushed. One of the chaperones, Dan Phelps, either took pity on me or really wanted to go fishing, because he volunteered to accompany me on the full-day trip.
The barracuda had been running, and the last three boats before us had caught hundreds of them, so I was optimistic. Perhaps too optimistic, because our boat caught less than a dozen between the 50-plus anglers on board.
I had a five-footer strike my anchovy right as I brought it to the surface, slurping the soft-bodied bait right off of my hook.
I stood there, momentarily frozen, before the shock and disappointment set in.
Sure, we caught lots of Pacific Mackerel, Calico Bass, and Dan even got a brilliantly-colored, red-orange California Scorpionfish — which we were told had dorsal spines as poisonous as its flesh was delicious — but no barracuda.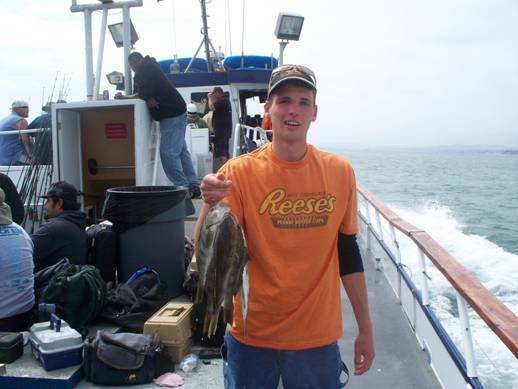 Returning to the house, we learned the guys on the half-day trip had caught almost a dozen species between them, including barracuda, yellowtail, and even a four-foot shark.
*****
Disappointed by the charter boat, I returned faithfully to the pier each night, which made for plenty of interesting experiences:
One day, a seagull stole my bait.
Another day, I caught a starfish.
Yet another, I learned that the week before we'd arrived, the television series Greek shot its Spring Break episode right on that pier.
In a moment of stupidity, I tried leaving my rod propped in the sand with bait in the water while I tried swimming. The pole fell over and the sand ruined my reel.
I actually hooked into a nice California Halibut that was maybe 10-12 pounds, but after fighting it to the surface and allowing me to look at it, my line snapped.
Great experiences and stories, but not one fish.
*****
On the afternoon of the last day, one of the guys I'd befriended, Julian, said he'd let me use one of his two rods.
Julian was born just across the border in Mexico. When he came to the United States in his late teens, he brought with him his wife, a few possessions, and a bad drug addiction.
The birth of his first son sobered him up and made him an advocate for the Christian faith he credited his sobriety to.
Late in the afternoon, both of Julian's rods dipped at the same time and I reeled in a small White Croaker. It wasn't pretty, didn't fight well, and made a weird, throaty noise when handled (I later discovered this to be its namesake), but I was glad to have caught it.
I wished Julian a good life as we parted that afternoon, and planned one last attempt to catch a fish entirely on my own.
*****
When I returned that evening, I could see fish schooling around the pilings under the pier lights, but couldn't get them to bite. I had absolutely no saltwater tackle, and everything I'd used all week was intended to catch trout. I had the right baits (squid and shrimp), but not the right gear.
Why I tied on a Kokanee Jig
, I'll never know. It was four inches long and weighed about two ounces — hardly the proper lure for fish smaller than my hand. Why that six-inch Walleye Surfperch bit it, I'm even more nonplussed, but it did.
After about 20 hours of sleep in five days, after hours on the pier, after questioning whether I had a future in even casual fishing, I had held out hope.
That hope resulted in a last-minute catch that would be my only fish of the week (apart from the dismal catch on the charter boat).
It was too small to eat, and several fisherman dropping bait traps into the water had caught larger fish, but I was so proud. I had a passerby take a picture for me with my disposable camera
, and I was grinning ear to ear.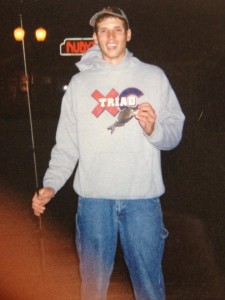 *****
When I returned home the next afternoon, exhausted, Dad mentioned he'd been having some luck at the Klamath River. I'd been fishing all week and catching almost nothing, so you'd think I'd decline, right?
Nope. After a 14-hour drive, I hopped off the vans, and we went fishing that night.
It was, at that moment, that I realized just how serious I was with fishing. It was no longer just something I did for fun. It was an obsession.
#CaughtOvgard