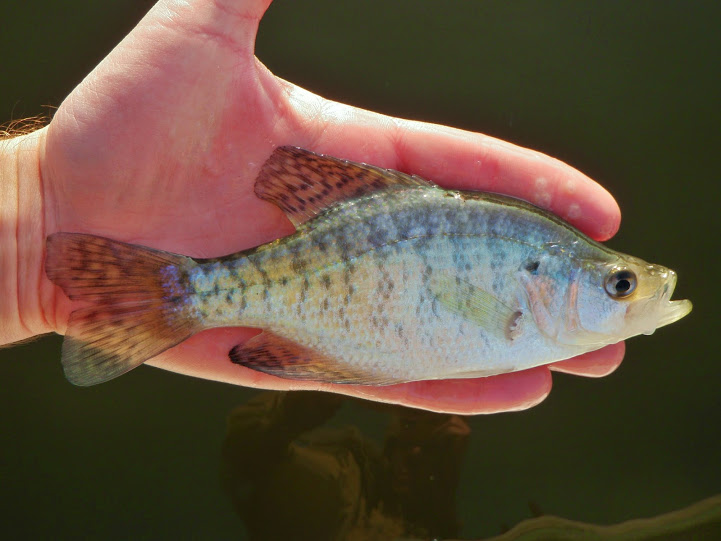 Species: White Crappie (Pomoxis annularis)
Location: Gerber Reservoir
Date: July 15, 2007
If you've kept up with this blog, you probably know that I started keeping fishing journals when I was 14. Let's be real. I'm quite confident in my writing abilities now, but my early teenage prose wasn't always the best. Still, as I look back, a few stories actually read well as written.
This is one such story.
***
"After hearing very good reviews of Gerber, we packed up and went there for the day. We had been told there would be an endless supply of crappies and had planned for such results. But, in the first hour, we had only caught a few bullfrogs — no fish.
The day wore on, and we eventually caught some perch on little tree frogs (yes, I'm a monster), but I wanted at least one crappie. I got my wish shortly thereafter when an eight-inch white crappie — my first — graced my line. The hope soon left, and after another hour of poor fishing, so did we."
***
For those who fish for crappie a lot, you should know how to tell the difference between white and Black Crappie. It's not about how dark a fish is (crappie coloration varies widely). It's not about size.
You can occasionally tell by the spotting patterns (White Crappie have vertical stripes and Black Crappie are just randomly spotted), but where both species exist, they often hybridize. Quickly tell what predominant genes exist in a fish if their patterns aren't clear.
It's simple: count the hard dorsal spines. If it has six spines, it's a White Crappie. More than six? It's a black. I've caught blacks with between seven and nine spines, so there is some variability.
#SpeciesQuest // #CaughtOvgard
Read the next entry in #SpeciesQuest here: Species #17 — Tui Chub.