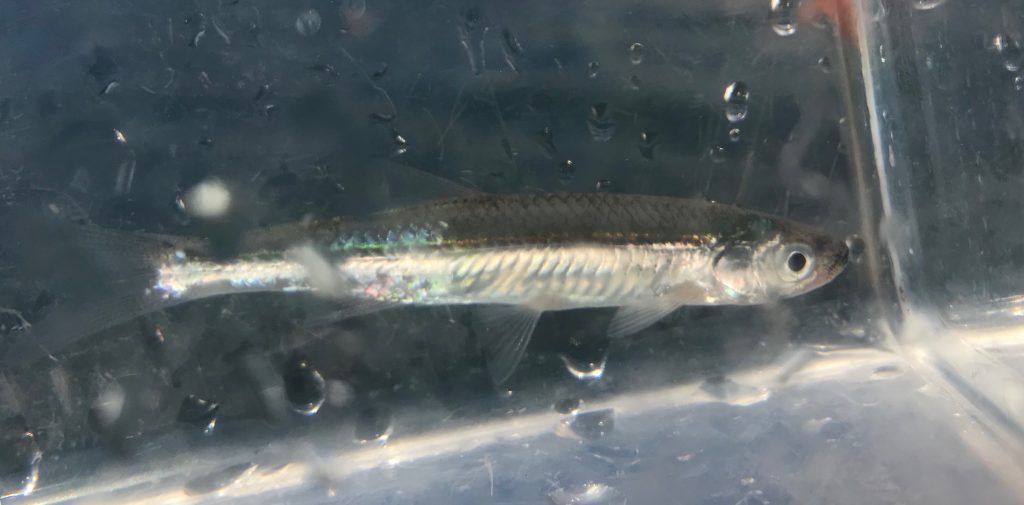 Species: Emerald Shiner (Notropis atherinoides)
Location: Buffalo, New York
Date: July 18, 2018
Microfishing is still relatively new to me, and the newness of it all is partially why I love it so much. This method has yet to hit the mainstream, but microfishing is a gem.
In combination, the ability to sight fish, to actually see the fish you're targeting and the inherent challenge in getting small fish to bite on tiny tackle is an incredibly underrated pursuit.
Further, there are micros everywhere — even in the heavily pressured waters nearby you don't think twice about — and given its relative lack of awareness, you can probably microfish within walking distance of your house.
Micros are tough to "fish out" because they're typically too small to have food value to humans, and though they can be delicate, they are usually plentiful.
Everywhere you go, there are sculpins, chubs, minnows, killifish, anchovies, shad, darters, or shiners.
Play hard
One of my favorite experiences microfishing started out with me chasing Northern Pike the size of my leg and ended with me catching fish the size of my toe.
While visiting Buffalo, New York for a teaching conference, I used every afternoon to get out and fish. After the conference, I bowed out to the Niagara River faster than the Bills have bowed out of the playoffs in recent years.
Sorry, Lt. Colonel Schultz. I couldn't resist.
Arriving at my destination, the Tifft Nature Reserve, I grabbed a heavy rod for pike and a smaller rod just in case any micros were visible.
I quickly spotted a nice pike. Unfortunately, it was more lifeless than the Raptors' Finals hopes before LeBron went to the Western Conference.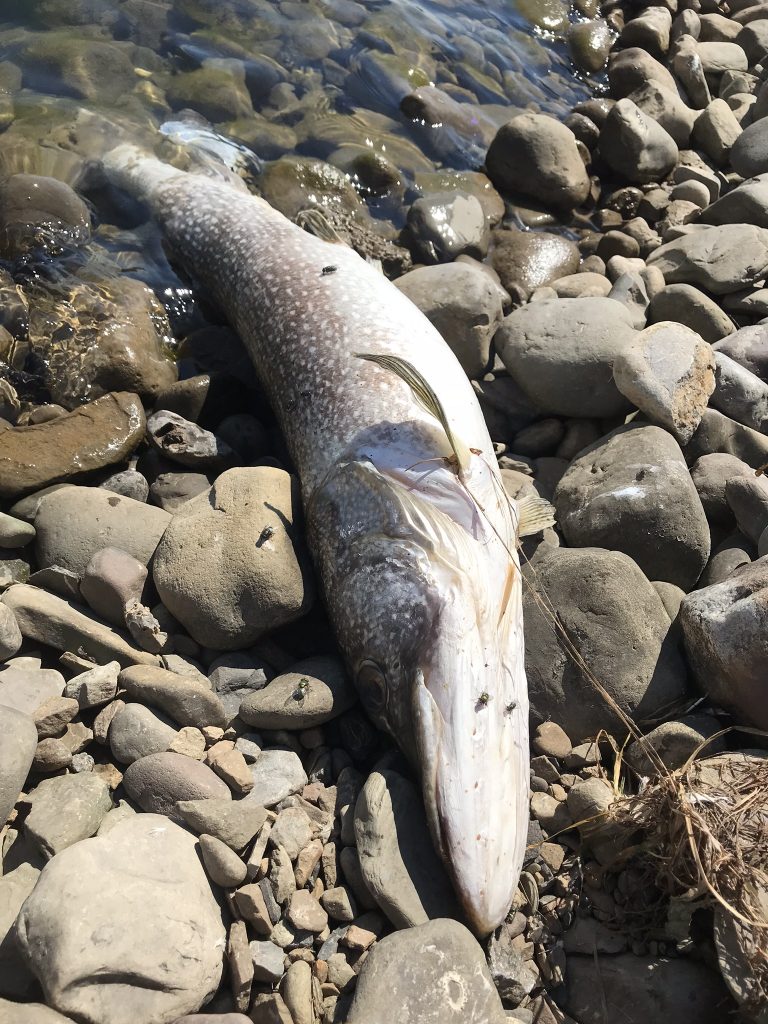 The second thing I saw was a school of micros, patrolling the shoreline just far enough out that I couldn't easily reach them with my micro rod. Still, fish you can see should take priority when microfishing, so I opted to try anyhow.
I set down my regular rod which happened to be tipped with a jig and worm. It fell into the water and caught a Rock Bass, which I quickly reeled in, released, and resumed microfishing.
Micros
Some micros are notoriously difficult to catch. Most micros — especially cyprinids — are notoriously tough to identify. I couldn't tell what these fish were in the water, and as I battled the wind to place my tiny piece of worm in the path of the school, I had no idea what they were.
The Great Lakes are home to dozens of micros alone. Often, identifying micros is tougher than catching them and if the Ontario Ministry of Natural Resources didn't have The Baitfish Primer (Free PDF for Lake Ontario Micros), identification would be rough.
Catching them was no walk in the park, but eventually I did get one to bite my Owner New Half Moon Hook.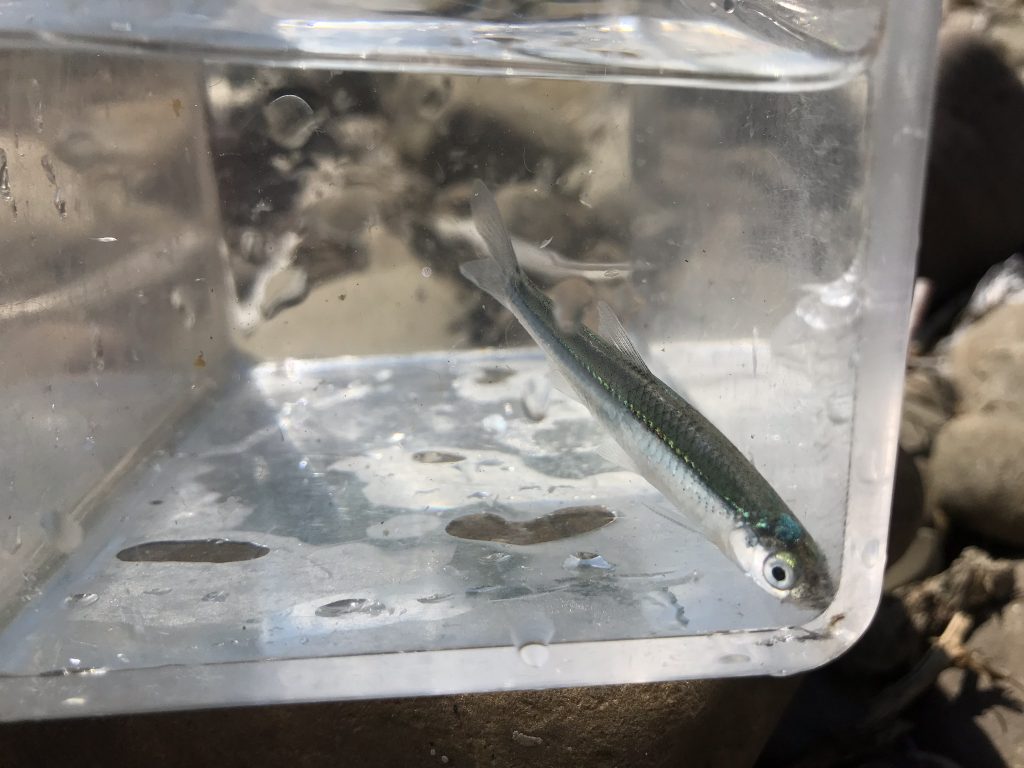 Often, I'll spend hours fishing a school of micros in hopes of catching more than one species, but these were pretty obviously the same species. I hadn't identified the species yet, but I was enough of a naturalist to see they were the same, and it was time to move to greener (or at least slightly less Emerald) pastures.
I carefully unhooked the fish and put it into the photo tank to take pictures.
Photo Tanks are glass or plastic boxes not actually designed for holding fish but re-purposed by enterprising microfishermen to take highly detailed photographs of fish with their fins fully extended.
Most species retract their fins when handled, and the number of anal fin rays, dorsal fin rays, fin shape, fin size, and a host of other factors can be lost if fish are held out of the water.
I've always tried holding fish in my wet palm just under the surface of the water to spread out their fins, but it doesn't always work. You also risk losing the fish before a good picture is taken.
Thus, Photo Tank.
I took a few pictures, but the tank I had at the time was old and all scratched up. Further, it was windy and I didn't have anything to wipe water droplets off the side of the tank, so I couldn't get the best photo.
In this case, it was enough to identify the fish: Emerald Shiner.
Fitting, considering just 750 words ago I told you that microfishing is a hidden gem.
#SpeciesQuest // #CaughtOvgard
Read the next entry in #SpeciesQuest here: Species #162 — Rainbow Darter.