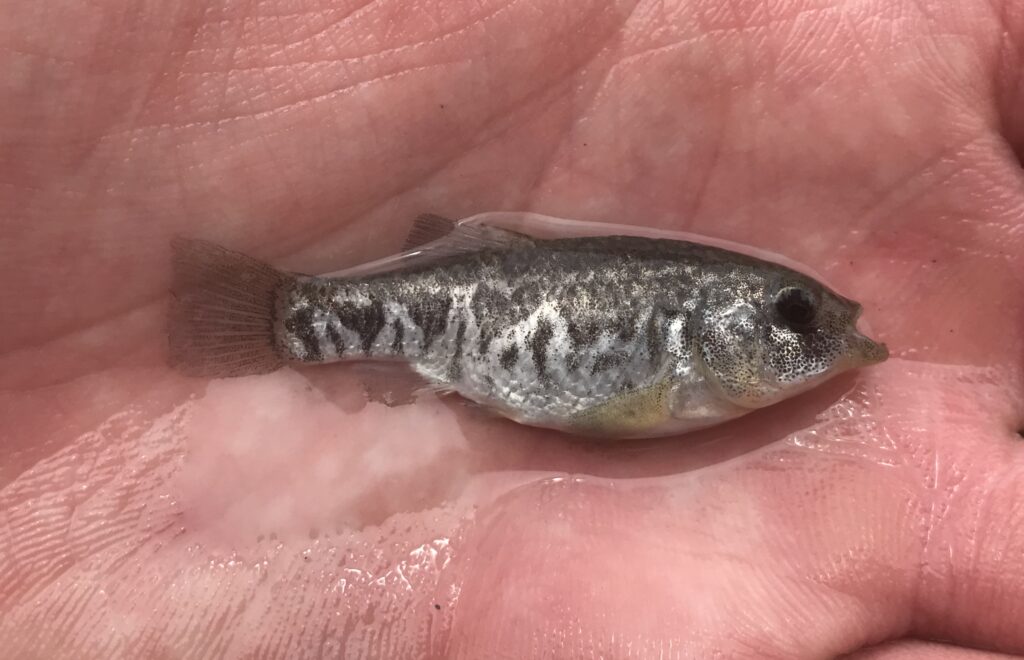 Species: Pecos Pupfish (Cyprinodon pecosensis)
Location: Roswell, New Mexico
Date: August 10, 2018
Alien. That's exactly what you expect Roswell, New Mexico to be. And honestly, it is alien. The large town is surrounded by some of the strangest landscape I've ever seen with a mixture of sweeping sand dunes, sage flats, scab rock, muddy rivers, crystal-clear streams, foul-smelling alkaline sinkholes, and of course, completely alien fish.
The Pecos River system, which flows through the region, is one of the most unique in the country.
It serves as the westernmost barrier for many fishes we typically consider to be eastern species. It demarcates the extreme native range of Bluegill, Green Sunfish, Flathead Catfish, and Largemouth Bass. There are also a ton of native species found in the system (24) compared to most other systems in the American West.
For this reason, I was enamored with it.
Despite my infatuation, my planning was virtually nonexistent, and I didn't do as well in the Pecos as I should have. Still, I managed to find water, add a new (if low-hanging) species in the Red Shiner, and I still had a few hours to kill. So, I found myself at a location that I felt had to hold something. It was an alkaline sinkhole that I could smell long before I got to it, but I was confident I could catch fish.
I walked up to the water's edge carefully, through thick, acrid gray mud that stole my flip flops. Thousands of fish were up against the shoreline, and I quickly recognized them as pupfish of some kind. Knowing Pecos Pupfish were present, I was stoked. I unburied my legs, shed my flip flops, returned to the car for my rod and micro gear, and made it back through the sucking mud in about two minutes.
Tentatively, I snuck up to the water's edge to find dozens of dead pupfish strewn along the water's edge and floating in the shallows. These cyclical die-offs are common with pupfish, but it was still disturbing to see so many dead fish. It was more disturbing to smell on top of the sulfur that permeated the air and assaulted my nostrils with every calculated step.
These were the early days of Luke as a Microfisherman, and I was wholly unprepared. I was using a short ultralight Ugly Stik with a micro hook tied to the end. I now use a telescoping tenkara rod with a 15-foot reach, but this little guy was just four feet long. Since the pupfish were skittish, this made it difficult to reach them. Whenever I'd get within reach, the fish would bolt. I just needed another five feet or so. Normally, casting and slowly retrieving would solve the problem, but after maybe 6-12 inches of shallow shelf at the water's edge, the bottom plummeted far too deep to fish.
Further complicating the matter was the fact that there were thick weed mats at the shoreline, which made actually getting a bait in the face of the pupfish nearly impossible in my unfortunate situation. It took me several hours of trudging through the thick mud around the lakeshore to finally find a spot I could cast. I was scraped up from all the rocks and the cracked crust that formed on top of the sun-baked, sulfuric soil. Mud was almost waist-high in places, and I was getting dirtier than a politician at a strip club.
Ugh.
I was miserable and not having any success. I've since caught dozens of pupfish and learned they only feed when the bait is on the bottom. Considering the bottom was upwards of 10 feet down just inches from the bank, this was really tough.
Eventually, I did catch a nearly dead pupfish that had shriveled and distorted (likely after releasing its spawn) and was on death's door.
At first, I was excited with the development until realizing I'd snagged it on the head. SMH.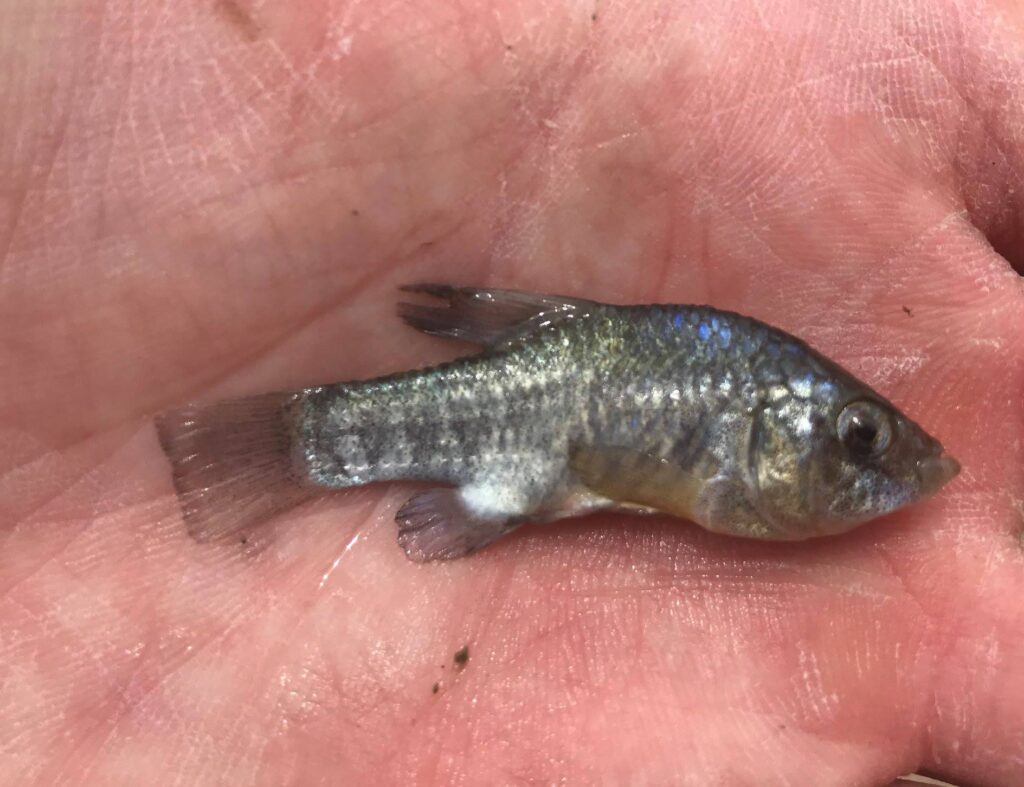 The blue spawning coloration was pretty, but nothing else about this fish was even remotely aesthetic. I cringed as I released it and began to calculate how much driving I'd have to do that night to make it to Abilene, Texas where I was staying with my friend Casey Torres that night. It was about five hours away.
I was soaked in mud that smelled like the Grim Reaper's diarrhea, so I also had to solve the problem of where and how to clean up before driving so far.
Exasperated sigh.
I vowed to try one more spot before giving up.
Fortunately, there was a slightly larger ledge and by casting way past it, reeling it up quickly, and allowing my bait to rest on the bottom, I was able to get a real, honest-to-goodness, hooked-in-the-mouth Pecos Pupfish. I snapped a picture and proceeded to wash as much mud as I could off using my hands and a gallon of water. It took off most of the chunks but didn't begin to touch the smell.
Weighing my options out there, more than an hour from Roswell, I looked for a truck stop, gym, brothel where I could grab a quick shower. Several unfruitful calls later, I was headed to an RV park that offered me a shower for $10. Roughly 30 minutes later, I confirmed it was the best $10 I'd ever spent, and I was on my way to Abilene.
Please consider subscribing to my weekly column and access my past columns for as low as $1 per month by clicking "Become a Patron" below.