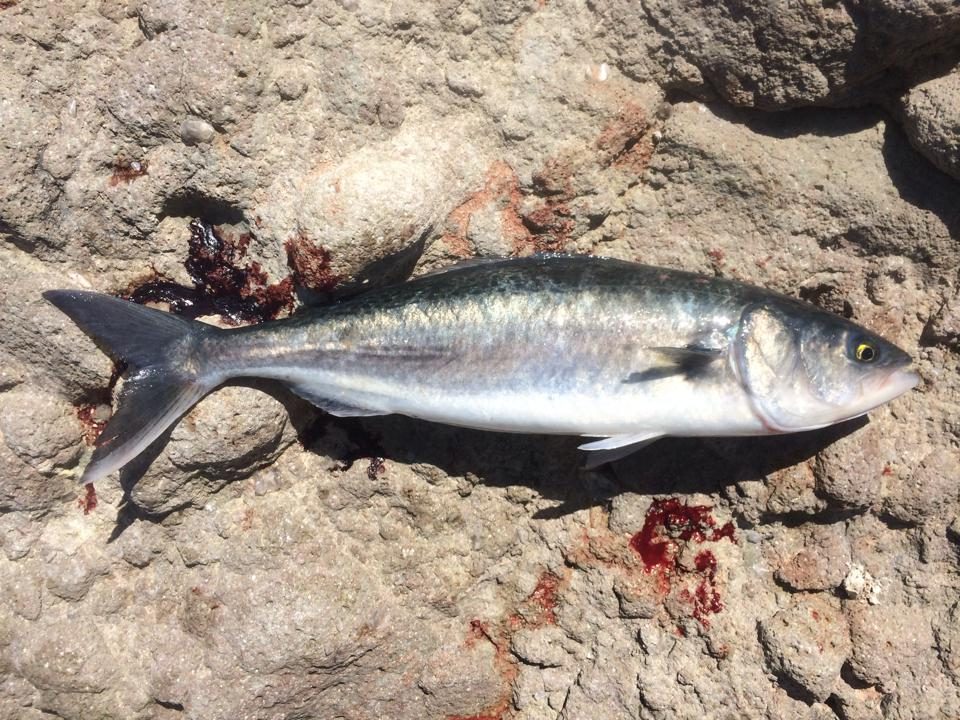 Species: Kahawai (Arripis trutta)
Location: Kuaotunu River, Kuaotunu, Coromandel, New Zealand
Date: February 25, 2014
After going it alone for weeks, my friend David Clarke and I decided to get a charter. We'd planned to chase tuna and kingfish and marlin off the coast with one of this friends, but when that fell through, we scrambled for a backup plan.
With no cell service (I should've paid for it, but I was naive and cheap) and WiFi only available at a per-MB fee in hotels and hostels, I didn't research it as much as I should have. Now I know that you should buy a SIM Card, but then? Nope.
So what we ended up doing was a 'Land-Based Charter' with a gentleman who owned a bait shop in a town near where we were staying in the Coromandel region.
He promised us big snapper, kahawai, and chances at other fish as well.
I paid the bill as a thank-you. I mean, he let me stay with him for weeks and saved me thousands of dollars on hotels, so it was the least I could do.
***
It started out pretty well. We met up at sunset and hiked a windswept batch of grassy foothills to a rock landing. The guide tossed out a bag of burley (that's Kiwi for chum), and we started fishing.
Biodiversity around New Zealand is low, and this day was no different. We caught almost exclusively Australasian Snapper from about half a pound to the three-pound beast David landed. All great-eating fish, but nothing like the Kingfish (very closely related to the Yellowtail found in California) we were hoping for.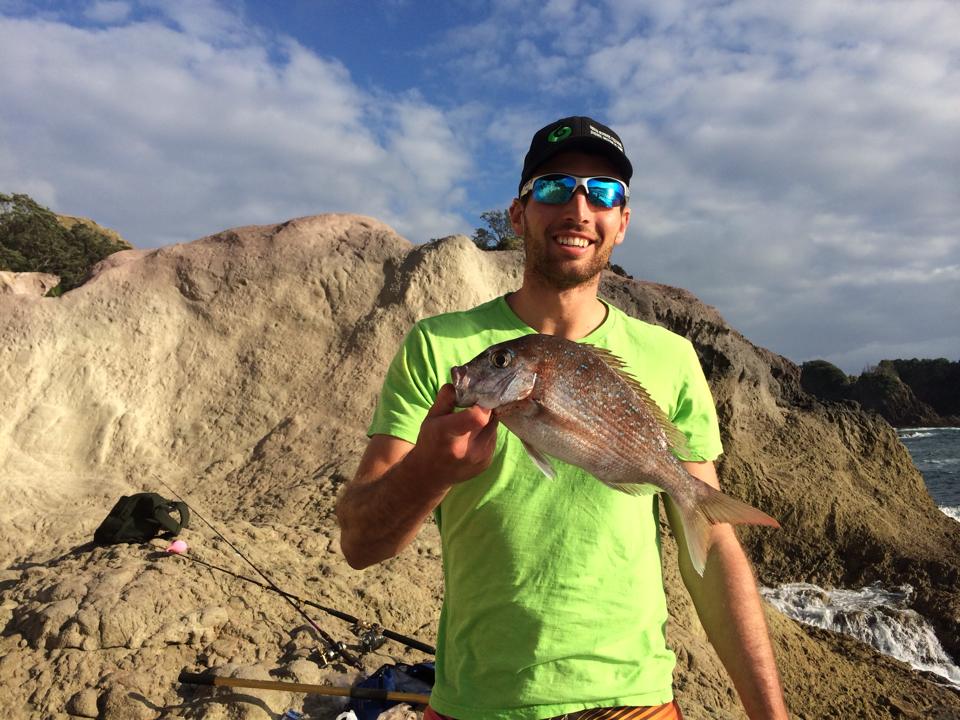 ***
The day wore on in the beautiful setting, and though fishing wasn't great, it was entertaining.
The guide's burley bag got snagged against the cliff face,  and for some reason, he decided to dive down and unsnag it. I think it was for show, but it was still pretty badass. He dove down and freed the bag while avoiding any sharks, so I'd count that as a win.
***
In the last few hours of fishing, a school of tuna-like fish starting aggressively feeding. The guide, who was fishing with us and not handing off fish as guides normally do, hooked up first.
This ferocious beast ripped line off of his reel and fought impossibly hard for its apparent size. After a few minutes, he landed it on the rocks. It was roughly the same shape as a trout and probably only 24-25 inches long, but it fought like a 20-pound salmon. I couldn't believe it.
His fish had hit on the drop, but he didn't tell us that. He just kept fishing. After he caught #2, I cut off my weight and hooked a pilchard head onto an unweighted hook tied directly to my mainline.
It sunk very slowly and stayed in the eyeline of the prowling fish, and I hooked up almost immediately. This fish fought like crazy. Nothing I've caught before or since pulled like that Kahawai, pound-for-pound. I was using a heavy spinning rod with 25-pound mono, and this five-pound fish stretched it to the absolute limit.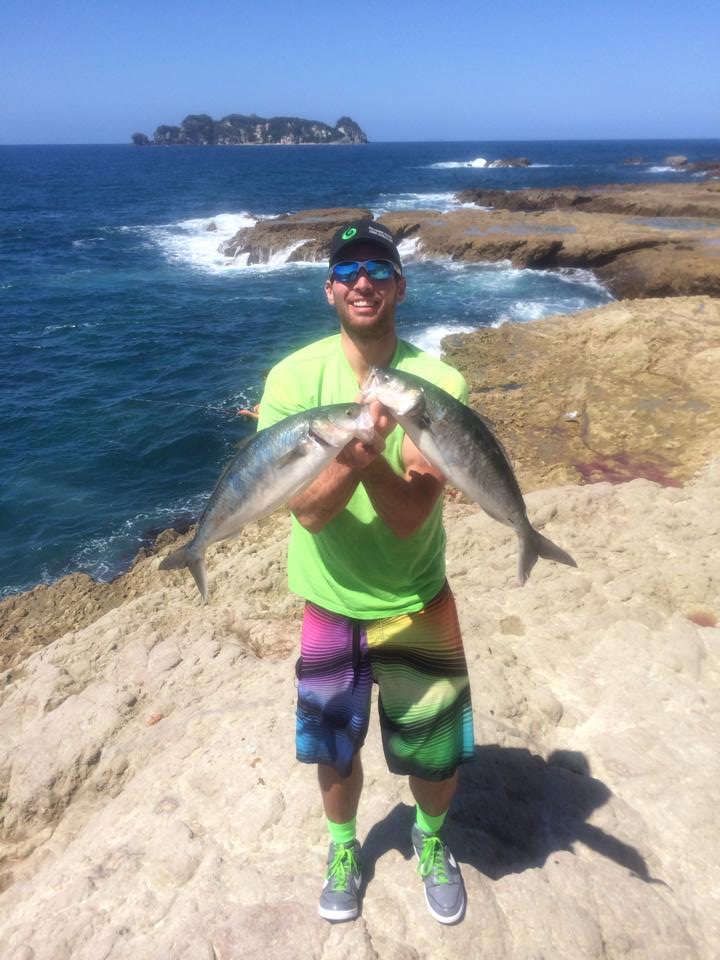 I landed several more beasts that day, each one taking an unweighted pilchard head in the churning surf and putting up a fight for the ages. None of them topped seven pounds, but I was physically sore after fighting the last one.
***
We hiked out at day's end and were shocked to learn the guide had kept most of the fish for himself. Despite catching maybe 50 pounds of fish and then packing it out on our backs for miles, we took home maybe five pounds.
I didn't tip, and I left a review detailing all of his antics. He was a nice enough guy, but he'd basically charged us $450 NZD to go out and fish with him. He didn't really guide us, and apart from cleaning the fish (of which he kept 90%), he didn't do much else.
It wasn't the worst guided trip I went on, but it was up there. To make matters worse, the guide sent me an angry response on Facebook after I reviewed his service with an (in my opinion) a very generous 3-out-of-5 stars.
I guess it proves there are jerks everywhere.
#SpeciesQuest // #CaughtOvgard
Read the next entry in #SpeciesQuest here: Species #61 — Widow Rockfish.