Species: Common Carp (Cyprinus carpio)
Location: Malheur River, Princeton, OR
Date: August 22, 2015
Imagine seeing a fish fish with some frequency for years when traveling but never having the appropriate gear to target it successfully. That's the story of me fishing for Common Carp.
There are no carp populations in Klamath County where I live, which, in a county larger than Delaware, says something.
Nearby counties have carp populations, but having neither fished for carp nor known anyone who did for years, it meant carp was basically just a pipe dream.
That is, until my friend Ben Fry told me of this amazing fishery in the middle of the desert where he and his brother, Chuck, slayed carp the weekend before.
***
I'd just been offered a teaching job at Henley Middle School, and I accepted the position while sitting in my office at Klamath Community College, not having even applied. I was excited, but I was nowhere near ready.
When I told my boss at KCC, I agreed to stay and work the swing shift until they found a replacement. This made my schedule crazy, and I knew if I didn't go fishing this weekend, I might not have another shot.
So I loaded up my car and headed into the desert.
***
When we arrived at Malheur National Wildlife Refuge, the short carp season (August 1 – September 15) was half over. I assumed this meant skittish, heavily pressured fish, but that wasn't the case.
Within 10 minutes of throwing my corn in the water, I had my first carp on. Ben and his kids, Gabe and Rose, caught theirs shortly thereafter.
Once we figured out how to fish for them and accepted that in 90-to-100-degree heat and thick smoke, it was going to remain unpleasant, we hit our rhythm and started smashing fish left and right.
***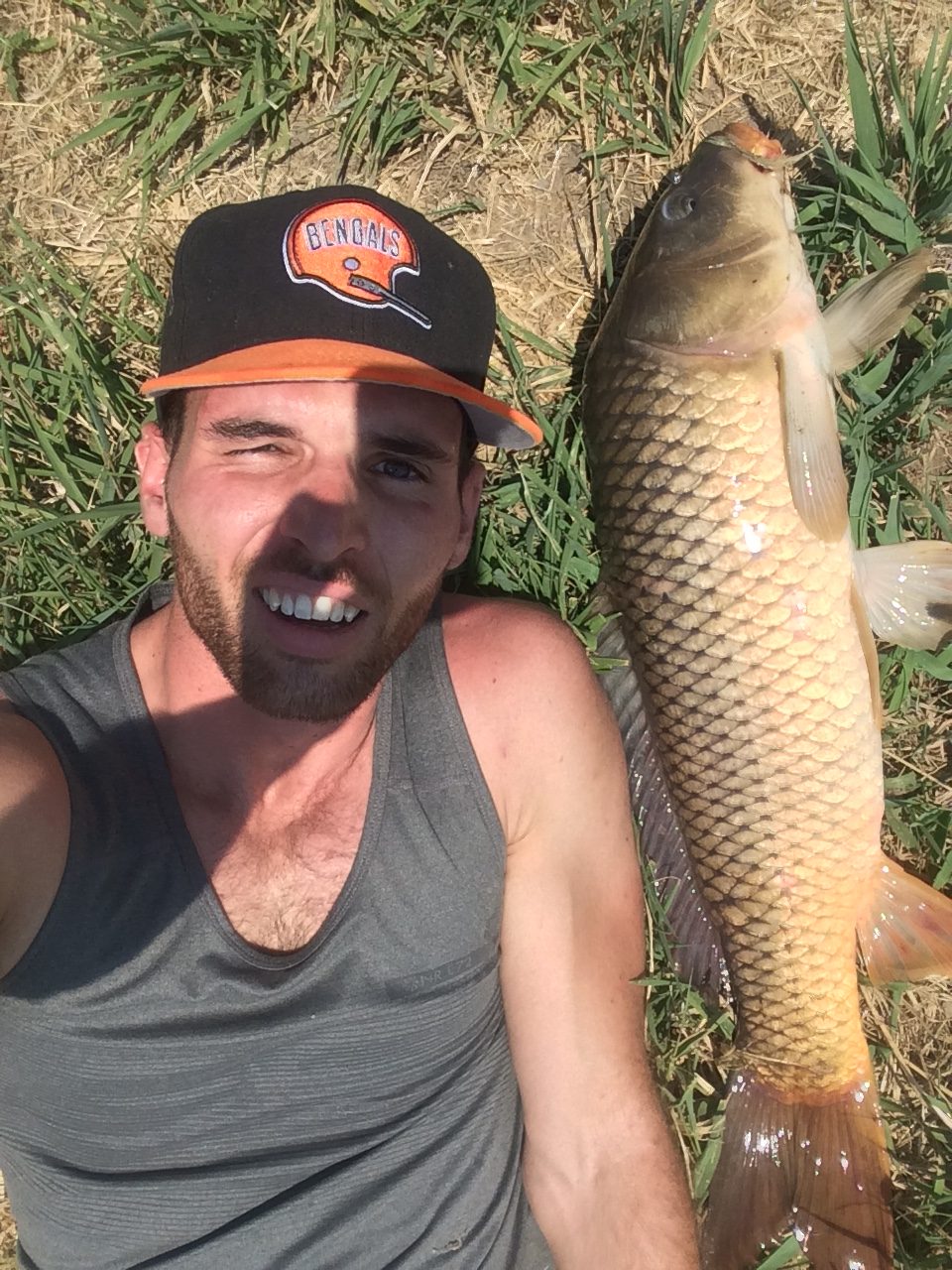 This season opens as a damage control measure to help curb the invasive carp population which has expanded exponentially since the 1950s introduction until it took over and wiped out native species. It's now so bad that most aquatic vegetation is gone, and ducks don't stop here anymore, despite its historic presence as a major Pacific Flyway stopover.
So we killed every carp we caught. For someone who does almost exclusively catch-and-release fishing, this was tough.
At first, the Refuge staff came and picked up them in trucks and carted them away for fertilizer, but then they gave up, leaving us sitting and fishing by a pile of dead carp in 90-plus-degree heat. It wasn't great.
***
Fishing two rods at once, we were constantly fighting fish. The kids got tired, so we had to keep them entertained.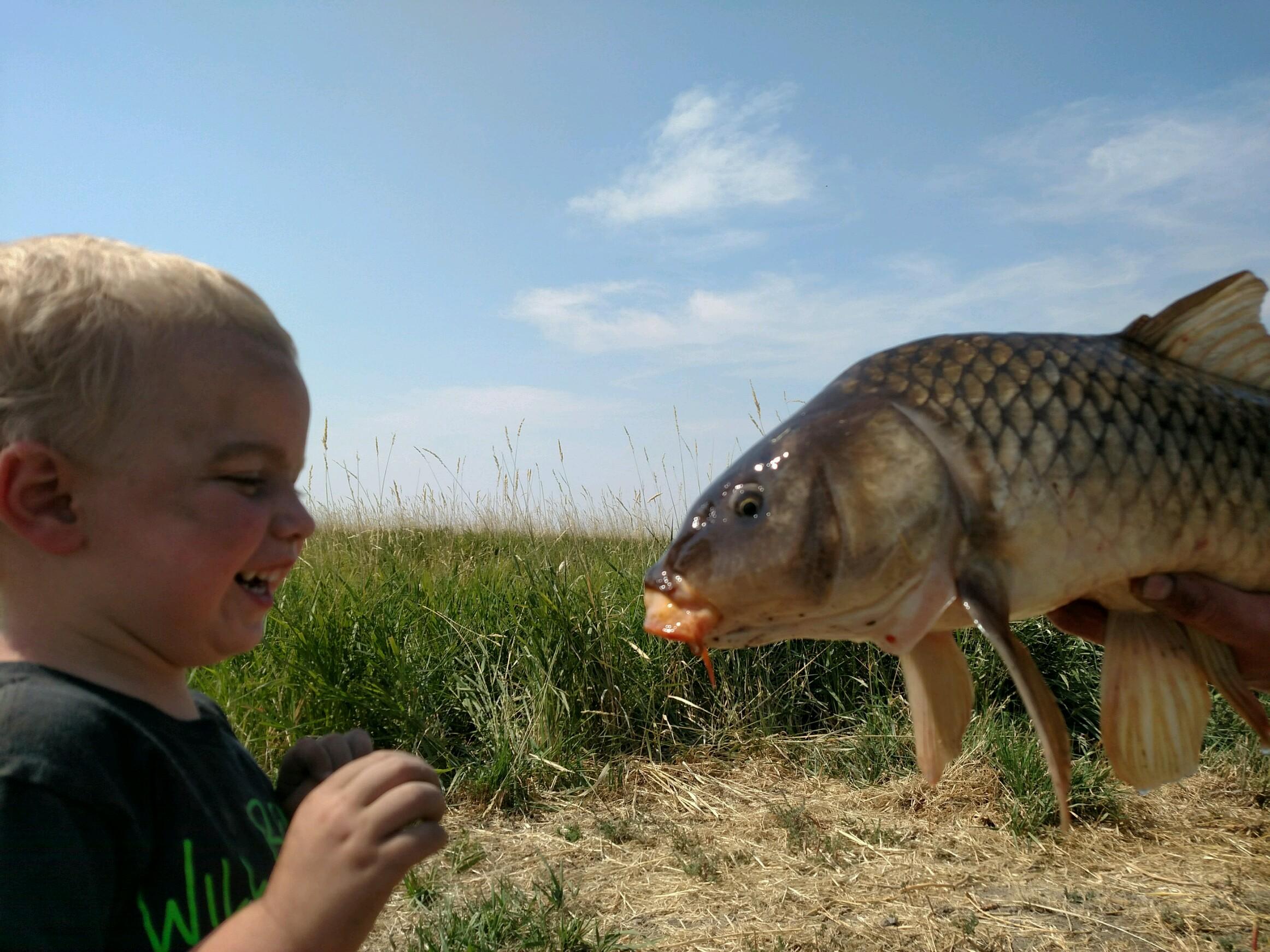 We continued to catch fish, and quickly realized they were stunted in the seven- to ten-pound range. Only one fish was under six pounds, and none topped 13. Still, an eight-pound carp is a better stunted fish than an eight-inch bass.
We continued fishing.
It didn't let up, and neither did we. We scarfed down sandwiches and drinks, but eventually the kids had to call it quits. Ben and I remained in hopes of either a monster carp or a Mirror Carp — neither of which came.
Once the sun started going down, the bite slowed. It didn't stop, but it slowed. We'd been at it for more than 12 straight hours, and we'd each probably lost two or three pounds of fluid in sweat. It was a long, hot day, and I finished with 44 carp. Ben had something like that many, too.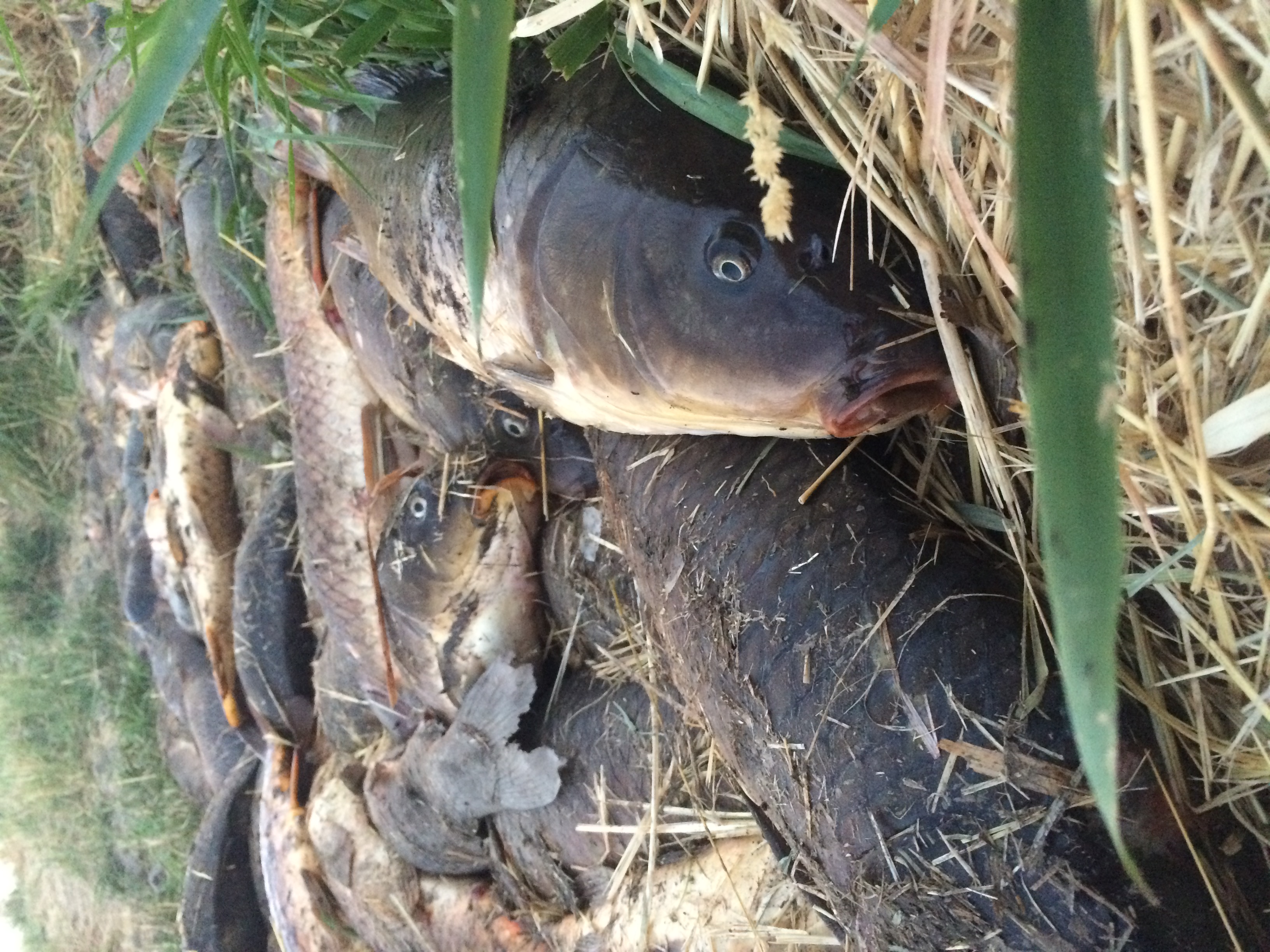 Read about this from a different, more punny angle here and then read more about what happened to all of the carp we killed here.
#SpeciesQuest // #CaughtOvgard
Read the next entry in #SpeciesQuest here: Species #71 — Slender Sculpin.