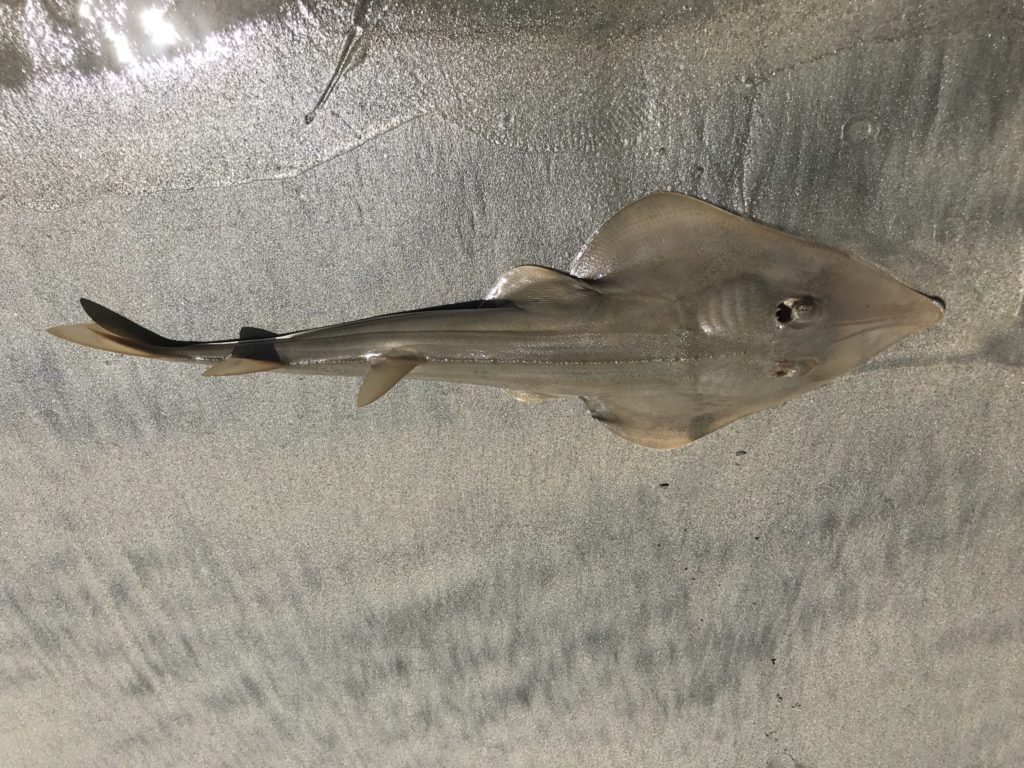 Species: Shovelnose Guitarfish (Rhinobatos productus)
Location: Torrey Pines State Park, California
Date: August 5, 2018
Crussshhhh.
Crussssssshhhhhhhhh.
The sound of my dreams being crushed was actually audible. Wait. No. That was the rhythmic lapping of the (spirit) breakers on the beach. Little did I know that living out my dream would soon become a nightmare.
Footsteps
It was my second day fishing with Ben Cantrell, a well-known multi-species angler who has served as one of the pioneers in a community that calls itself by a host of names including "lifelisters," and "species hunters." Ben runs bencantrellfish.blogspot.com.
I met Ben where all Millennials meet their friends nowadays: Instagram.
We met up for some fishing.
I donned my Frillneck, a hat draped with fabric that makes my life infinitely better because it replaces sunscreen.
After digging for sand crabs, small crustaceans slightly resembling pill bugs that live just under the wet sand on the beach, we got to it.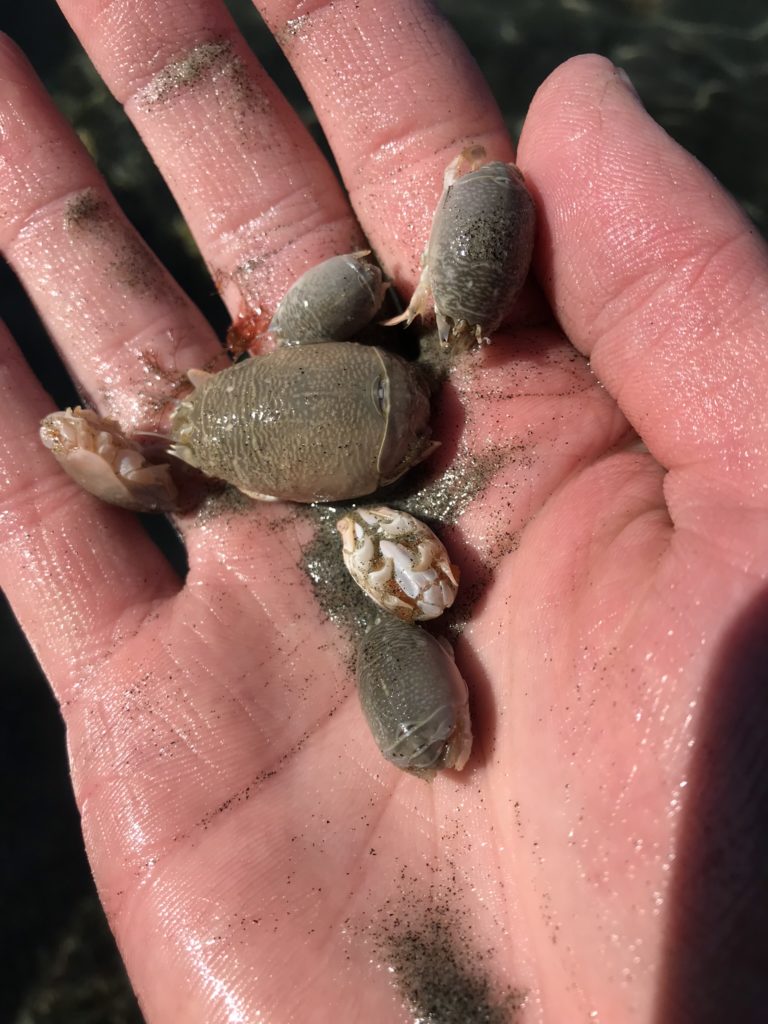 Ben quickly caught a Yellowfin Croaker, a species I'd never caught, but that was the highlight of the morning. It was slow — even for surf fishing.
He then led us to a spot where the slope of the beach caused two waves to meet, creating a mixing zone that looked absolutely prime.
I felt a tug and caught a small Leopard Shark.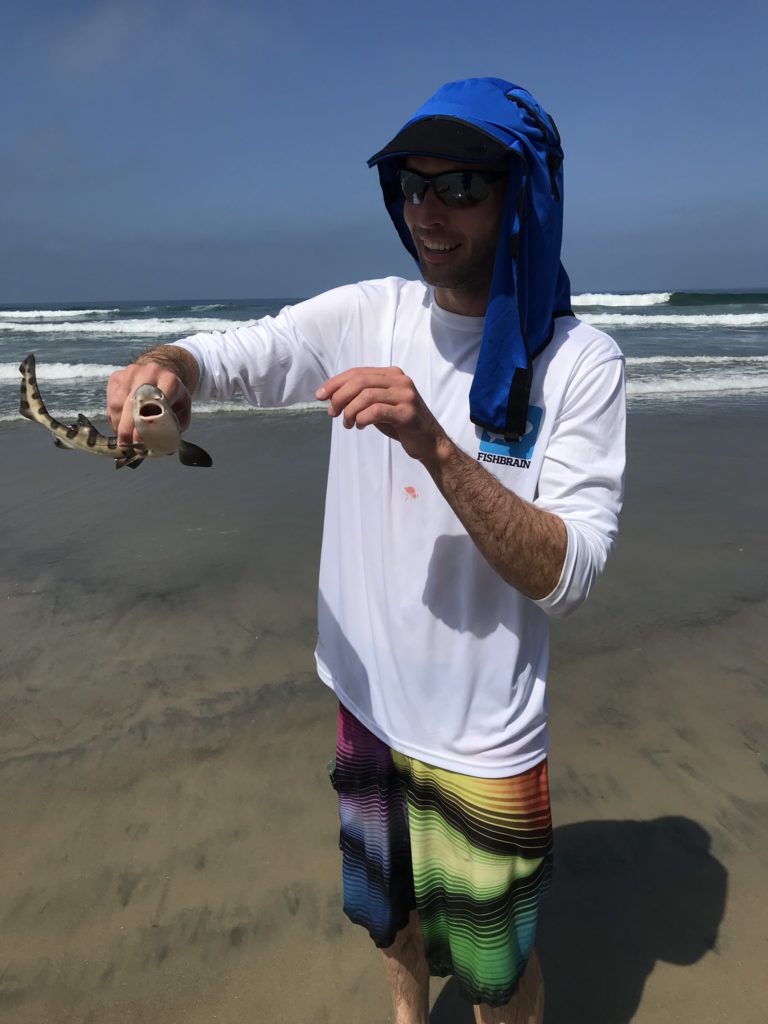 Misstep
I got a few more subtle taps on my bait.
Ben worked his way back down the beach, but I knew something was feeding, so I stood tight.
In the flash of an instant, I got a strong hit, and the massive fish began ripping line off my reel with a frantic tenacity usually only seen in teenage breakups.
It may have been two seconds or 10, but when its run slowed just a little, I lifted up to set the hook, stepping backwards with one foot ever-so-slightly to redistribute my weight in the punishing waves.
My foot rested on something squishy, and in that cruel moment, I felt a lance of intense pain on the inside of my foot.
I'd spoken to Steve Wozniak, who has sat atop the leaderboard of multispecies angling for years, just the day before. He warned me not to go barefoot because of stingrays, but everyone else fishing on the beach was barefoot, and so I'd gone along with them.
Big mistake.
The initial stab of pain was so unexpected and violent and rapid that I reacted violently and rapidly in return. I lifted my foot up, throwing me off-balance. I compensated for this loss of equilibrium by jerking the rod up to prevent myself from falling so hard that I broke 30-pound braid. Granted, the fish was large (if I had to venture a guess, I'd say a 30 to 50 pound ray, shark or guitarfish), and it was running hard. But still.
I didn't fall, but my hopes did.
Then, the toxins got to work.
I started sweating. If I hadn't had a Frillneck, the heat would've compounded the pain, but I'd soaked it with cool water, and it was keeping the sun off my face, at least.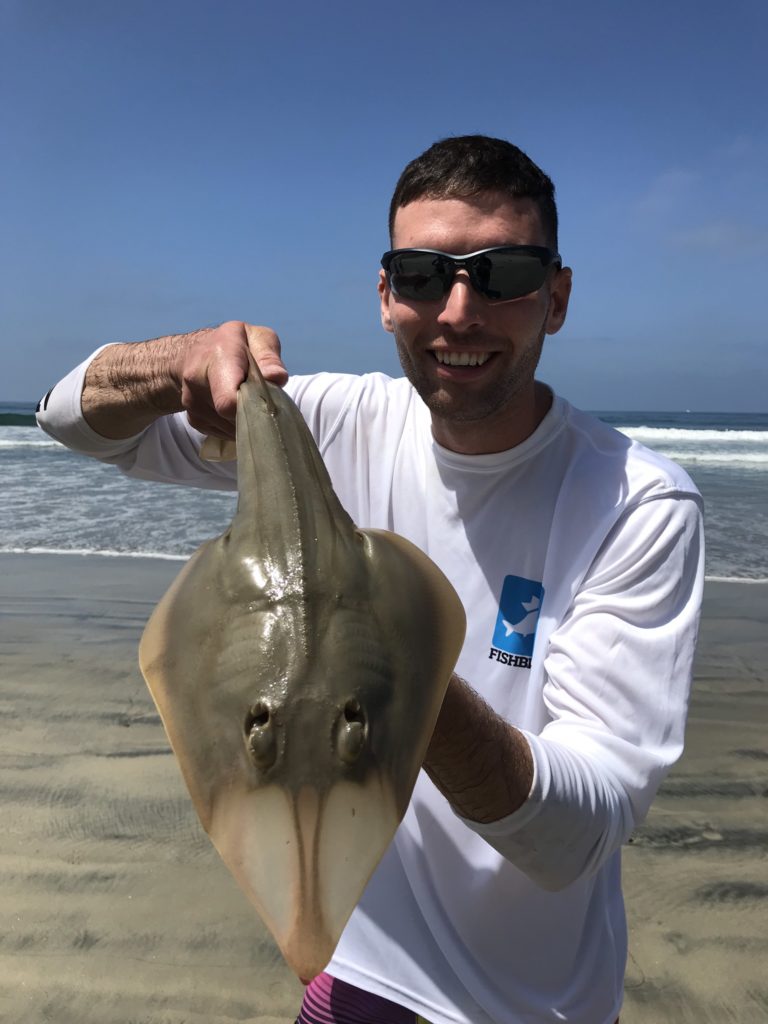 I've had my share of injuries over the years, many of them induced by fishing. I've been bitten by fish, stabbed by dorsal spines, ravaged on rocks, sliced by fishing line, hooked on multiple occasions, stepped on subterranean beehives, sat on colonies of army ants, sliced by fillet knives and slapped in the face by tails. None of that even compared to the pain of this stingray's barb.
This pain was like a bee sting amplified 10 or 20 times and localized to a single spot. From there, it leached out achy fingers into the rest of my foot and lower leg and bled an absurd amount for such a small wound.
Worst of all, I'd lost what might have been my largest saltwater fish to-date.
Refusing to quit, I fished another 45 minutes or so before the pain of standing on that foot started to blur the edges of my vision, and I couldn't take it anymore.
The stoic display paid off because I managed to catch a small Shovelnose Guitarfish about 2 feet in length before hobbling toward Ben.
Ben helped me limp the mile back to the lifeguard station where I was treated and released to stumble my way through the rest of the day.
Please consider subscribing to my weekly column and access my past columns for as low as $1 per month by clicking "Become a Patron" below.
#SpeciesQuest // #CaughtOvgard
Read the next entry in #SpeciesQuest here: Species #170 — Barred Sand Bass.