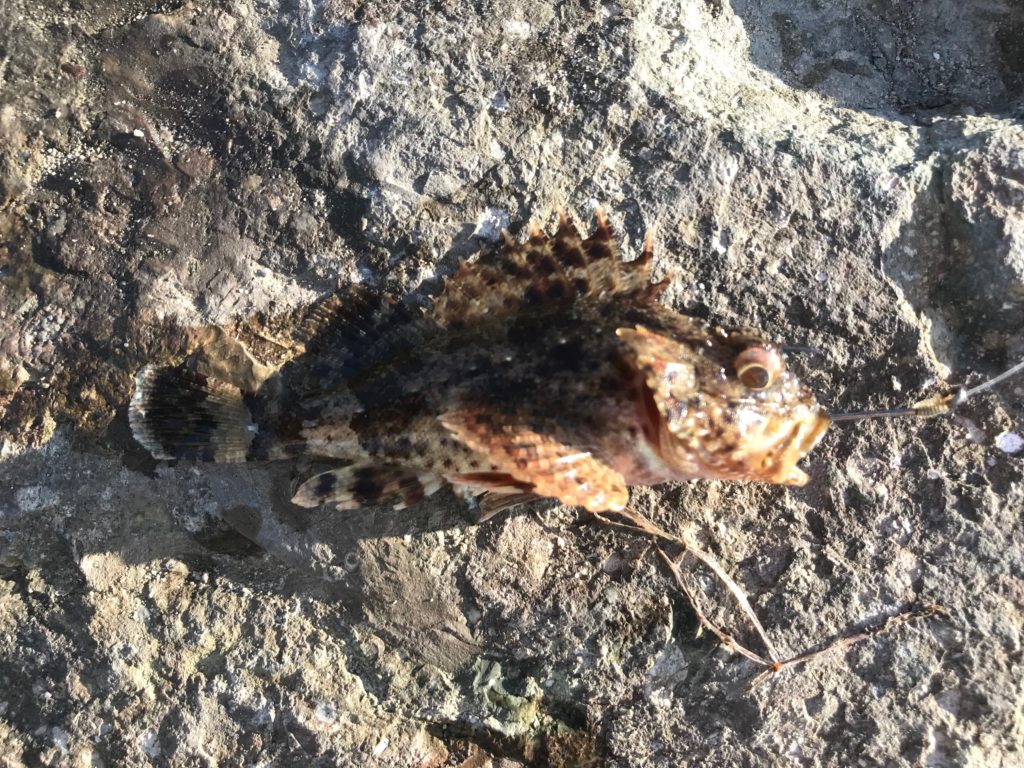 Species: California Scorpionfish (Scorpaena guttata)
Location: Mission Bay, California
Date: August 5, 2018
After parting ways with Ben Cantrell, I decided to keep fishing. Sure, my maimed foot was still aching from the interaction with the stingray almost 12 hours earlier, but it didn't stop me from trying Mission Bay at sunset. 
There were thousands of tiny silvery fish schooling on the surface, but I focused my attention on fishing the rocks at the end of the little jetty.
My truncated sabiki hit the bottom, and I immediately began catching fish.
After catching a few smaller ones, I was rewarded with my largest Spotted Sand Bass, and then shortly thereafter, a prickly little fish I'd first seen a decade before on a charter boat: a scorpionfish.
Though the spines found all over this fish are highly venomous and capable of inflicting serious pain (something I wasn't about to take lightly after my tussle with the stingray), it is delicious. Unfortunately, it was small, and I had nowhere to cook it, so I released it and set to work on the tiny, silvery micros.
Please consider subscribing to my weekly column and access my past columns for as low as $1 per month by clicking "Become a Patron" below.