Species: Calico/Kelp Bass (Paralabrax clathratus)
Location: Huntington Beach Coastline, CA
Date: June 12, 2008
I wrote a detailed account on how and when I caught my first Calico/Kelp Bass as part of my How I Got Hooked series.
From How I Got Hooked — The Third Lesson (Part 2/2): Determination.
"The Charter
One day of the trip included a charter fishing excursion, which I had looked forward to for years.
In fact, I'd led the class fundraising efforts throughout high school, starting a concession stand for junior high sporting events, then, seeing its success and noting that hot lunch was only served at our school three Fridays a month, starting a snack bar that served microwavable lunches and snack items once a week. It did quite well.
As our funds grew, we rolled into senior year. One of my best friends, Tony Maddalena, and I, had been given three pages of yearbook ads to sell. We sold about three times that many.
All told, our efforts had resulted in more than $12,000 that we could put towards the trip, but all I cared about was what would become my first-ever chartered fishing trip.
The opportunity to choose a half-day or full-day trip day came, and everybody wanted to do a half-day trip. I was crushed. One of the chaperones, Dan Phelps, either took pity on me or really wanted to go fishing, because he volunteered to accompany me on the full-day trip.
The barracuda had been running, and the last three boats before us had caught hundreds of them, so I was optimistic. Perhaps too optimistic, because our boat caught less than a dozen between the 50-plus anglers on board.
I had a five-footer strike my anchovy right as I brought it to the surface, slurping the soft-bodied bait right off of my hook.
I stood there, momentarily frozen, before the shock and disappointment set in.
Sure, we caught lots of Pacific Chub Mackerel, Calico Bass, and Dan even got a brilliantly-colored, red-orange California Scorpionfish — which we were told had dorsal spines as poisonous as its flesh was delicious — but no barracuda.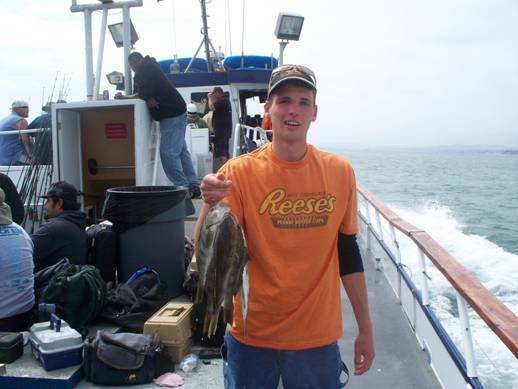 Returning to the house, we learned the guys on the half-day trip had caught almost a dozen species between them, including barracuda, yellowtail, and even a four-foot shark.
#SpeciesQuest // #CaughtOvgard
Read the next entry in #SpeciesQuest here: Species #21 — Walleye Surfperch.