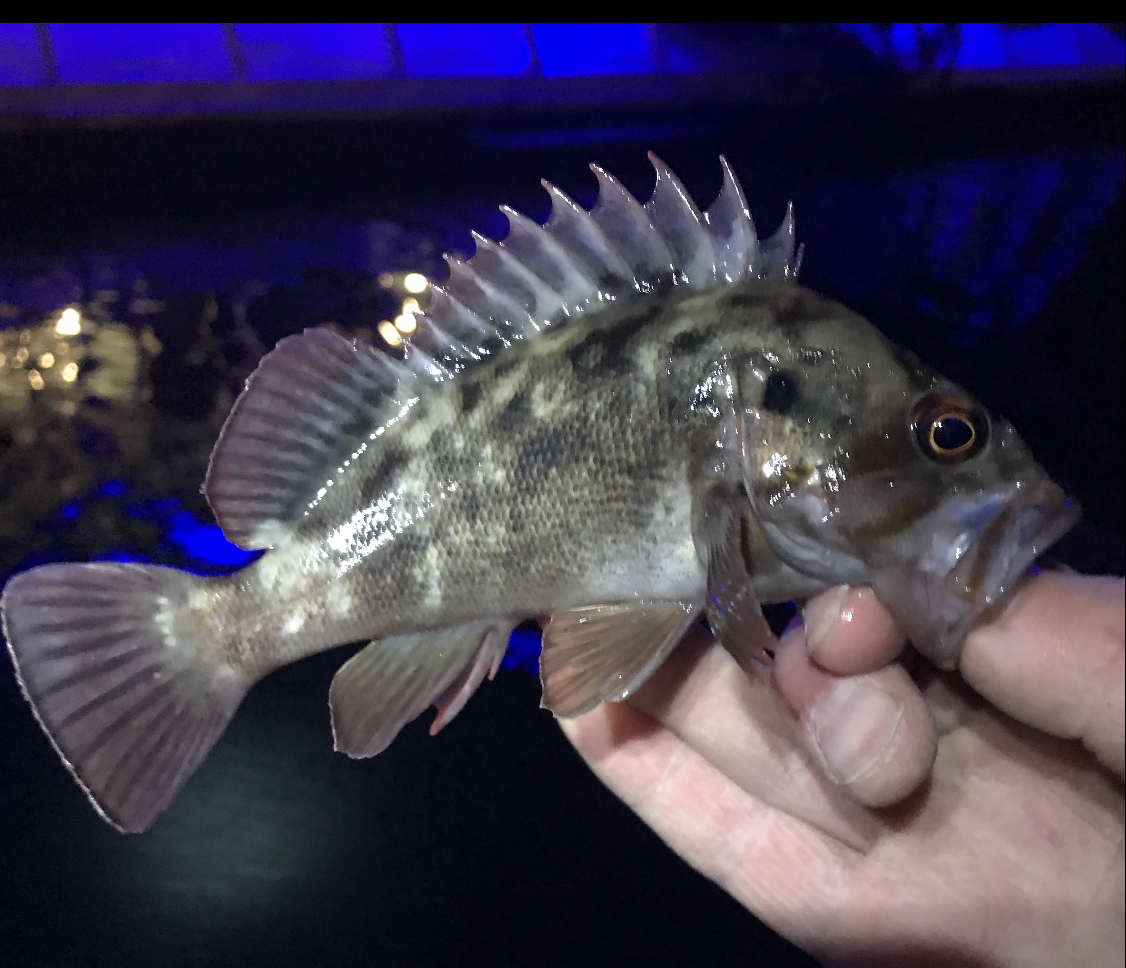 Species: Brown Rockfish (Sebastes auriculatus)
Location: Brookings-Harbor Coastline, OR
Date: September 10, 2009
Rashomon Effect 2-of-6: My Heart 
The dark majesty of the Oregon Coast rests in it's rugged, untamed power. The shaded mystery of the forest and what lies within speaks to the adventurer in all of us.
The whistling nocturne played by whipping winds over the salt-peppered cliffs always hatches butterflies in my stomach and a longing in my heart.
When I'm at my most taxed and exhausted from the intensity of hiking the steep trails, climbing the jagged rock faces, and fishing the roiling waters, it's only my passion for the sport that gets me out of bed the next time to start the process over.
That dark morning was no different, especially after a successful night fishing for surfperch that left us wet, cold, tired, and smiling nonetheless.
My body screamed "Go back to sleep!" but the longing for a day on the water got me out of the safety of my sleeping bag.
***
The instant oatmeal, bland coffee, and physical exhaustion weren't enough to keep me off the boat, and the resultant seasickness wasn't enough to keep me from fishing.
Despite the horrible knots my stomach was twisted into, I relished the time between each esophageal release because it meant I could catch a fish or two.
I landed Black and Blue Rockfish left and right, then Yellowtail Rockfish.
Just as we began to near limits, I fought my queasiness long enough for another drop. When I pulled up two small fish at the same time, I was ecstatic. When they didn't quite look like any rockfish I'd caught before, I was even more so.
"Hey Kyle," the deckhand said. "Are these Brownies?"
The captain, Kyle, came up and inspected the catch.
"Yeah, those are Brownies! We don't see a lot of those," Captain Kyle said to the deckhand, turning to me and adding: "Man, that's a rare catch."
The word "rare" evoked a sense of pride that *almost* overcame my nausea.
Little did I know that they were so rare, that in 20-plus charter trips, numerous shore fishing excursions, and miles of jetty walking over almost a decade, I wouldn't see another "Brownie" captured. And here I'd been fortunate enough to get two on one drop? Damn.
That is something special.
***
The rest of the day was even better. We fished anchovies out of the marina for bait, filled a bag and used them to catch more fish and a few crabs on the jetty, and then ended the day with a delightful dinner that really felt like a reward after an already rewarding day.
#SpeciesQuest // #CaughtOvgard
Read the next entry in #SpeciesQuest here: Species #28 — Northern Anchovy.