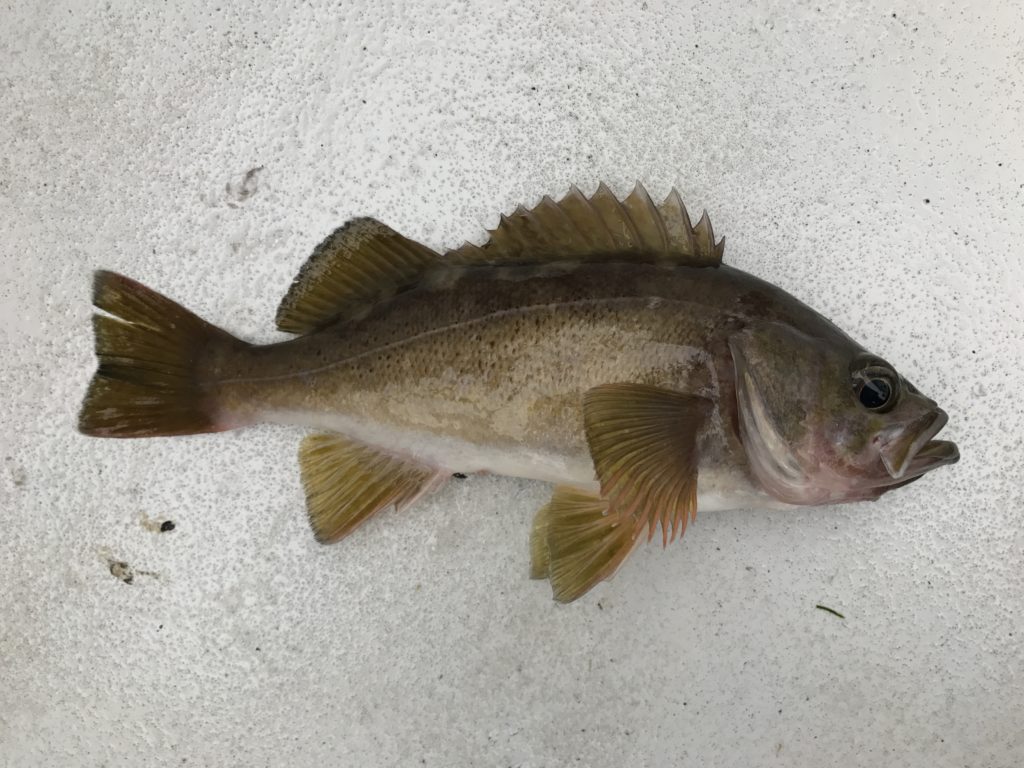 Species: Yellowtail Rockfish (Sebastes flavidus)
Location: Brookings-Harbor Coastline, OR
Date: September 10, 2009
Good and bad often go hand-in-hand. This was one of those days. In less than 12 hours, I landed 26 fish representing 11 species (six of them new).
Since this series on my blog showcases a story for each individual species, I was presented with a problem I've faced before. I've been writing a fishing column in the Herald and News as well as stories for my blog. I occasionally have to tell the same story in different ways, using different lenses, perspectives, or even a different focus entirely.
Fortunately, I watch a lot of television, and this style — called the "Rashomon Effect" and inspired by a Kurosawa film of the same name — goes through the same story from multiple perspectives. Different characters are living the same experience, or, the same character is living different experiences based on a single choice.
I've written to the Rashomon Effect from one, two, or even three perspectives before, but since I captured six species on this trip, I'll be putting my skills to the test by writing the same story from six different perspectives though I only experienced my own existence.
Here goes.
Rashomon Effect 1-of-6: My Stomach
A gentle purr clawed at the back of my dreams, itching me ever-closer to consciousness.
My dream-state mind, not fully in my control, rolled my body over, and my stomach sloshed.
Roaring broke the silence of the cool fall morning, and sleep fled my existence. Groggy, but fully conscious, I felt the overarching hunger and willed myself to sit up.
My bare shoulders left the covers, and the shivering — a testament to my metabolism — crawled quickly over my exposed skin.
The beast roiling in my stomach called out again, begging me to satiate it's wild nature.
The coastal cold slept in, and as I clamored to get my things together for a walk to the showers, the chilled fog blew through me.
Another growl called out in darkness, as I nudged my friend Ben Blanchard in the sleeping bag beside my own.
"It's time."
***
Warmed by the shower and draped in temperature-appropriate clothing, I set to answering the call my stomach had been making all morning.
Before it was fully saturated, I quaffed some oatmeal. I was so hungry that I pretty much just gulped it down. The beast was far from tamed, though, so down went two more packets of oatmeal before we drove to the marina.
***
The boat pinballed off the waves, sloshing around as we boated fish after fish. I was excited at the prospect of filleting these stout, bass-like rockfish and eating them.
After numerous Black and Blue Rockfish found a home in my bucket, I landed a new rockfish. This fish was a muted olive-yellow with gray mottling, and the deckhand identified it as a Yellowtail Rockfish.
Species #26 was in the bag, but I was feeling awful.
All of that oatmeal satisfied my hunger but left me bloated and full. Not a good feeling when you're prone to motion sickness on rough seas.
Each packet of oatmeal came back to haunt me. I'd catch a fish, retch. Fish, puke. Fish, barf. Fish, yak. Fish, spew.
It wasn't great.
One thing I'll never understand is why people clap during timeouts. Another is why I count the number of times I puke when sick. That day? 12 times.
My poor stomach just couldn't win. Despite the excellent fishing, I was distracted by the constant gurgling and the acrid, acidic fumes permeating my sinuses.
***
While we waited for our fish to be filleted, Ben and I tried to catch the tiny, silver schools of minnows in the marina. Crappie jigs seemed to get a few bites, but we quickly changed tactics and just started snagging them.
We filled a small bag with baitfish for use on the jetty.
***
Our bait in hand, we refilled our stomachs at The Hungry Clam, and I appreciated food that much more.
I ordered fish and chips, some fries, coleslaw, and a big bowl of creamy clam chowder. It wasn't the best I'd had, but the fish was moist with a crispy coating, the fries were thick and crunchy, and the soup was creamy and filling.
Money is no object when it comes to food, and the meal wasn't cheap considering the source. But my stomach was reinvigorated with the hot, fried food.
***
We fished on the jetty until we got hungry. Dinner was at O'Holleran's Steakhouse, and I ordered the sea scallops. Food has always been something I don't shy away from spending money on, and the meal proved worth it.
The salad and bread started us off on the right foot, but the main course made my night.
***
We relaxed in front of the fire that night, further engorging ourselves with s'mores as we talked and reminisced about the day's events.
#SpeciesQuest // #CaughtOvgard
Read the next entry in #SpeciesQuest here: Species #27 — Brown Rockfish.