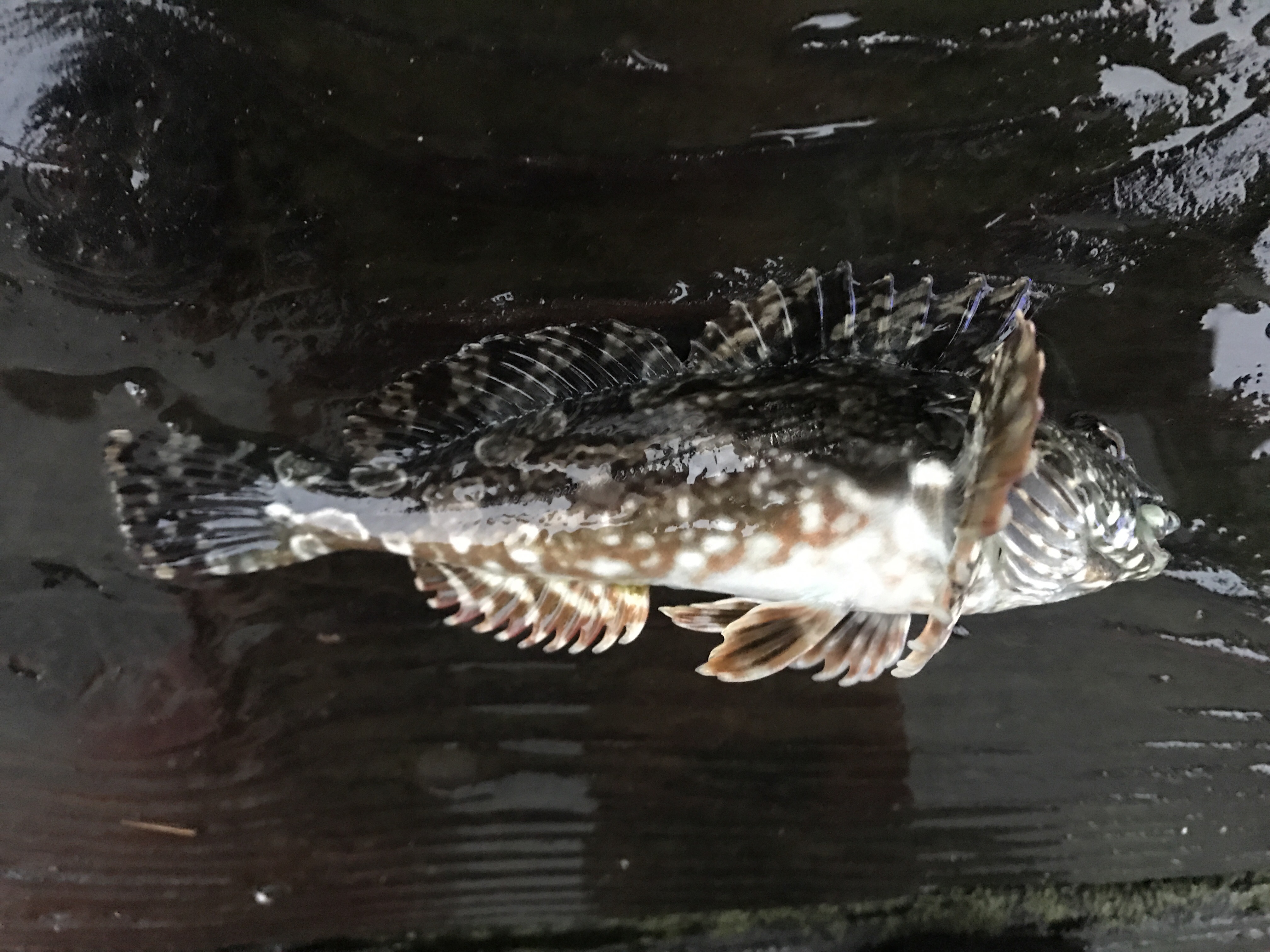 Species: Cabezon (Scorpaenichthys marmoratus)
Location: Santa Cruz Municipal Wharf, Santa Cruz, CA
Date: March 24, 2010
During college, trips to the coast were a somewhat regular occurrence for Ben Blanchard and myself. But when our other friend Christopher Puckett decided to go as well, we were pleasantly surprised.
Christopher is a good friend, but he was never really the outdoorsy type. Usually, the three of us would play video games or board games, joke around, or have deep discussions, but we didn't really do a lot of fishing together.
We'd all started in the same class in school, but Christopher graduated a year early. So for his junior year and Ben and my sophomore year Spring Break trip, we piled into my car and drove down to California, where it would be warm. Or so we told ourselves.
***
The San Francisco Bay, however, is not warm in March. It's warmer than Oregon but only just.
We spent the first night in San Rafael, a city on the north end of the Bay, in a fleabag motel. The only reason we weren't robbed blind is because my car was so unimpressive that the criminals all around it must have pitied us.
Would-be thieves thought: "Yikes. This guy needs it more than we do."
The next morning, our charter for Striped Bass and White Sturgeon was a flop. Jim Cox Sportfishing was the name of the boat, and despite the guide and the three of us fishing, we only managed only one striper, and it was Christopher who caught it.
Now apart from our Biology Trip as freshman in high school where we caught a bunch of bottomfish and the one time he went trout fishing with at Spencer Creek, this was his only fish. The 27-inch striper was nearly 10 pounds. Not bad for maybe his tenth fish.
He also caught a stingray pushing 20 pounds, and Ben caught a respectable Starry Flounder (a fish I've seen caught just that once and have failed to catch myself in the years since).
I was skunked. Not the best way to drop $180 for a guy who, at the time, only made about $5000 per year.
***
We went to a nice seafood dinner at Fisherman's Wharf then drove to Santa Cruz. I really wanted to catch a fish, so we headed to the Santa Cruz Municipal Pier.
Sure enough, I caught a fish. I setup the rod, and when I went to the bathroom, I came back to see Ben reeling in a White Croaker.
It wasn't long before I started catching fish, too. That night I caught three small sculpins, and everyone else fishing on the pier kept calling them "Bullheads," so I thought they were Pacific Staghorn Sculpins. The Internet existed, but I didn't have a laptop and Christopher's iPhone 1 was reserved solely for navigation, so I just went on in ignorance.
***
It wasn't until I got home that I compared pictures and realized they'd been Cabezon.
#SpeciesQuest // #CaughtOvgard
Read the next entry in #SpeciesQuest here: Species #33 — Sacramento Perch.