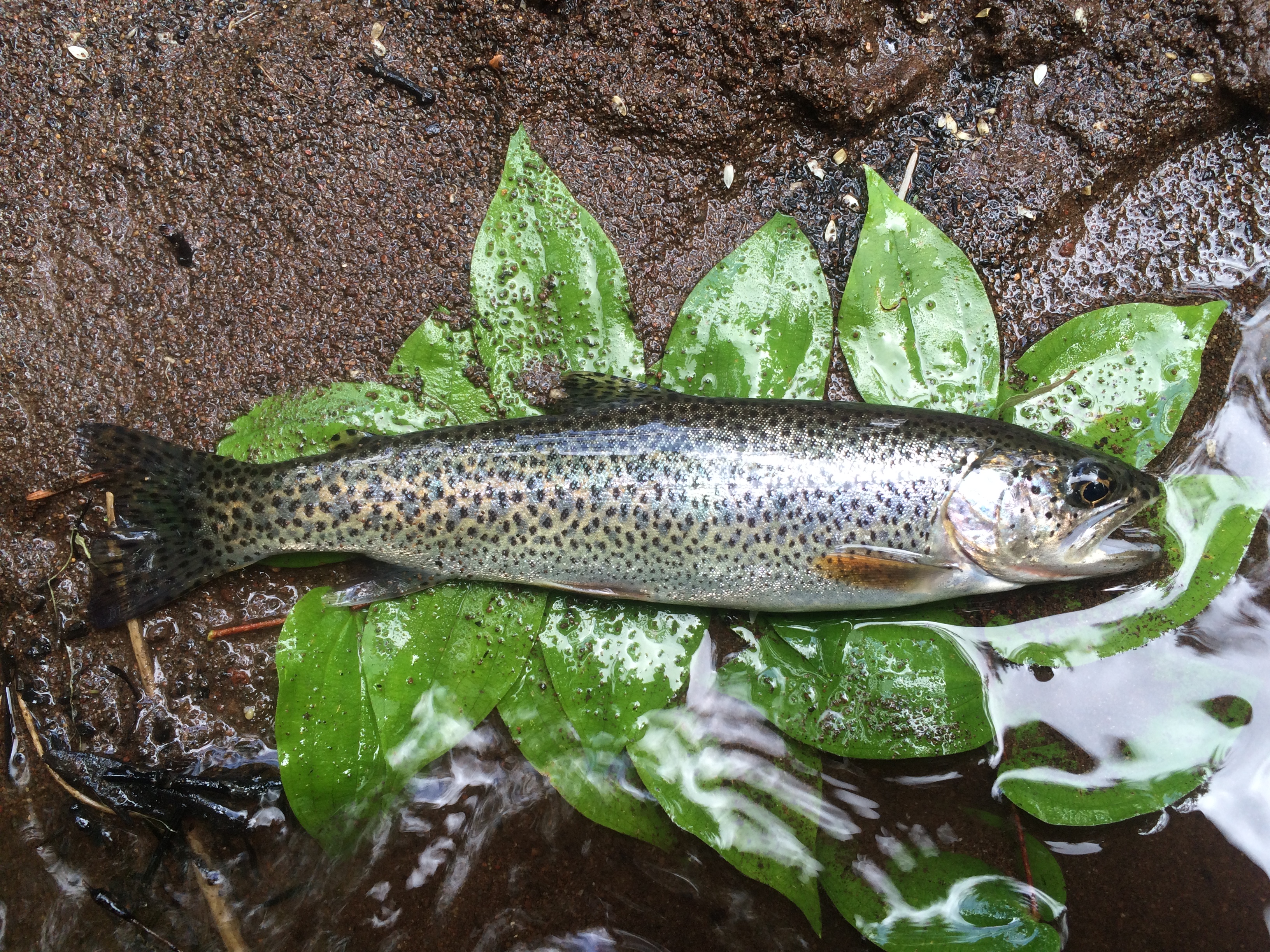 Species: Cutthroat Trout (Oncorhynchus clarkii)
Location: Big Butte Creek, Butte Falls, OR
Date: August 14, 2010
I debated how to record this species. The reason being that there are 10-to-14 living subspecies of Cutthroat Trout (depends whom you ask), and many anglers document and note each subspecies separately. Obviously I do.
And while I'd like them to be classified as separate species for my own purposes, they aren't. So what I'll do is tell you the stories of the subspecies of Cutthroat Trout I've caught so far.
Unlike my other individual species posts, I'll add to this one every time I catch a new subspecies. So here it is: a chronological list of the all of the Cutthroat subspecies I've caught, beginning with the first one (Coastal), the one that made Cutthroat Trout Species #34 in my #SpeciesQuest.
So far, I have caught these subspecies, in this order:
Coastal Cutthroat Trout
Lahontan Cutthroat Trout
Bear River Cutthroat Trout
Yellowstone Cutthroat Trout
Bonneville Cutthroat Trout
Coastal Cutthroat Trout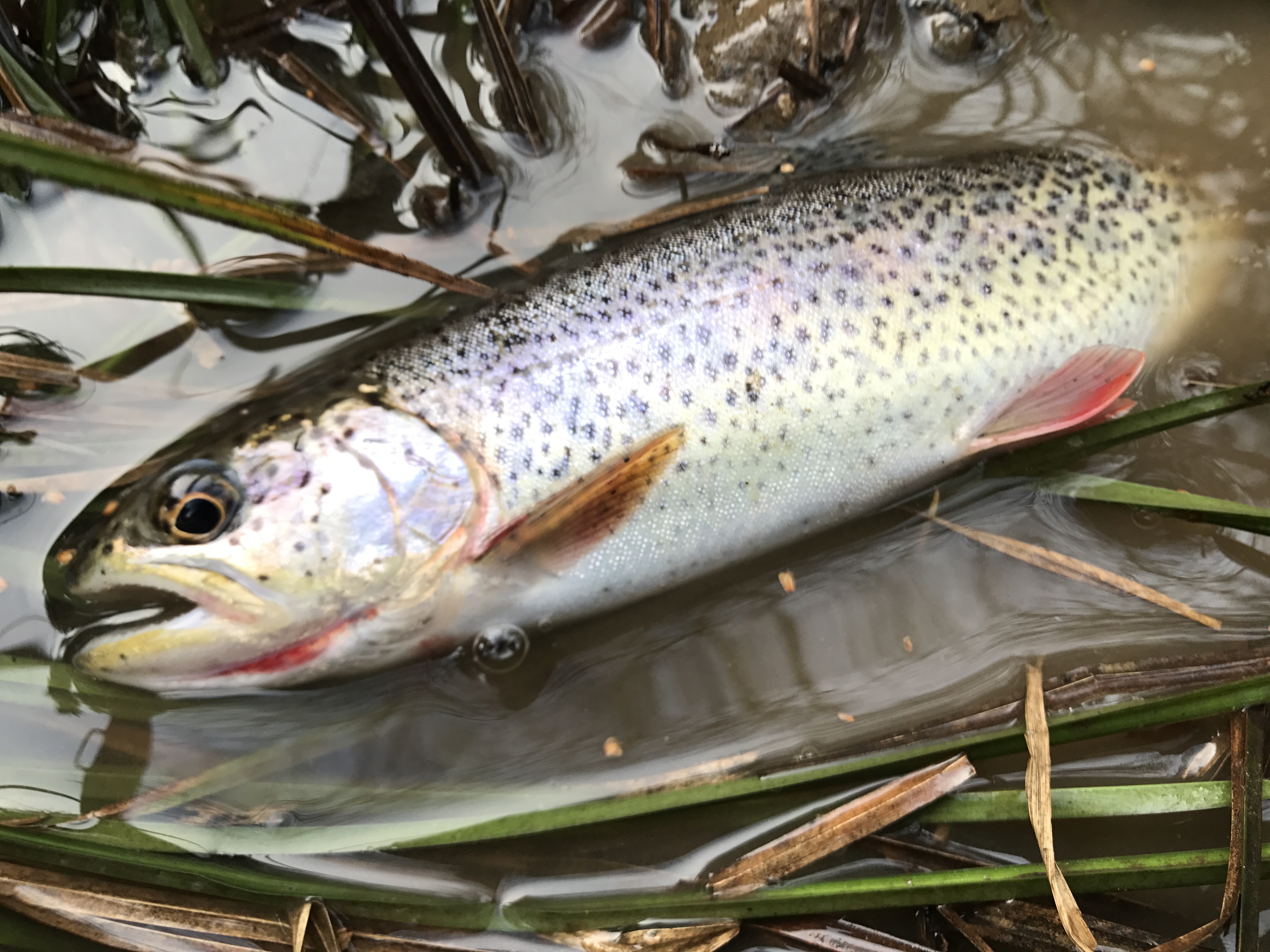 Mary's River in Corvallis is one of the best year-round fisheries for Coastal Cutts. This fish was
likely a Cutbow, though. 
Speed limits are the worst. I openly oppose highway speed limits and long for the days of old where motorists could careen down the highway at absurd speeds, using only their forearms as seat belts for children bouncing around in the front seat of the car.
I kid a little, but I still think speed limits are dumb.
Unfortunately, the officer didn't agree with me, and I was cited for doing 70 in a 55 as I made my way to Fourmile Lake to chase some of the massive Brook Trout I'd seen caught there in years' past.
My mood was further soured when I was skunked at Fourmile Lake, beginning a lifelong hatred of a place so beautiful, yet so unproductive as a fishery (disgusting Hatchery Rainbows aside).
***
I decided I'd go to my  native streams, making my way to Little Butte Creek. I landed a bunch of little brookies and met a guy who told me he'd caught a bunch of Westslope Cutthroat Trout in nearby Big Butte Creek earlier that day.
I didn't think Westslope Cutthroat Trout were found West of the Cascades (in actuality, they're not), but I hopped back into my car and drove.
***
Trout in streams fish the same almost everywhere, and I quickly landed small rainbows and a fish that bore faded red slashes below its jaws but otherwise looked like a Rainbow. It was, in fact, a Cutbow.
Where these species in the same genus overlap, they often hybridize. Rainbow-loving anglers have transplanted these fish all over the West outside their native range in Northern California, Oregon, Washington, British Columbia, and Alaska. While they provide great fisheries if and when the populations establish wild populations, they often out-compete native Cutthroats and/or hybridize them out of existence in much the same way invasive Brook Trout have overtaken Bull Trout.
Calling a Rainbow Trout invasive would cause most flyfishermen to have a conniption, but they are often true invasive species.
Nonetheless, both species are native to the Rogue Watershed where I was fishing, but Rainbows were just more aggressive, I guess.
When I moved upstream of a small dam between the Butte Falls Fish Hatchery and the town of Butte Falls, the small yet deep impoundment there looked perfect for a Rapala.
The respectable, 10 1/4″ Cutthroat Trout that smashed my Countdown Rapala agreed. The fish was more than half a pound and remains one of the larger Cutts I've ever caught.
For awhile I believed it had been a Westslope Cutthroat, but I eventually learned it was a Coastal Cutthroat Trout.
These elongated, piscivorous silver bullets are heavily spotted everywhere except their bellies and have much longer heads and larger mouths than comparably-sized Rainbows.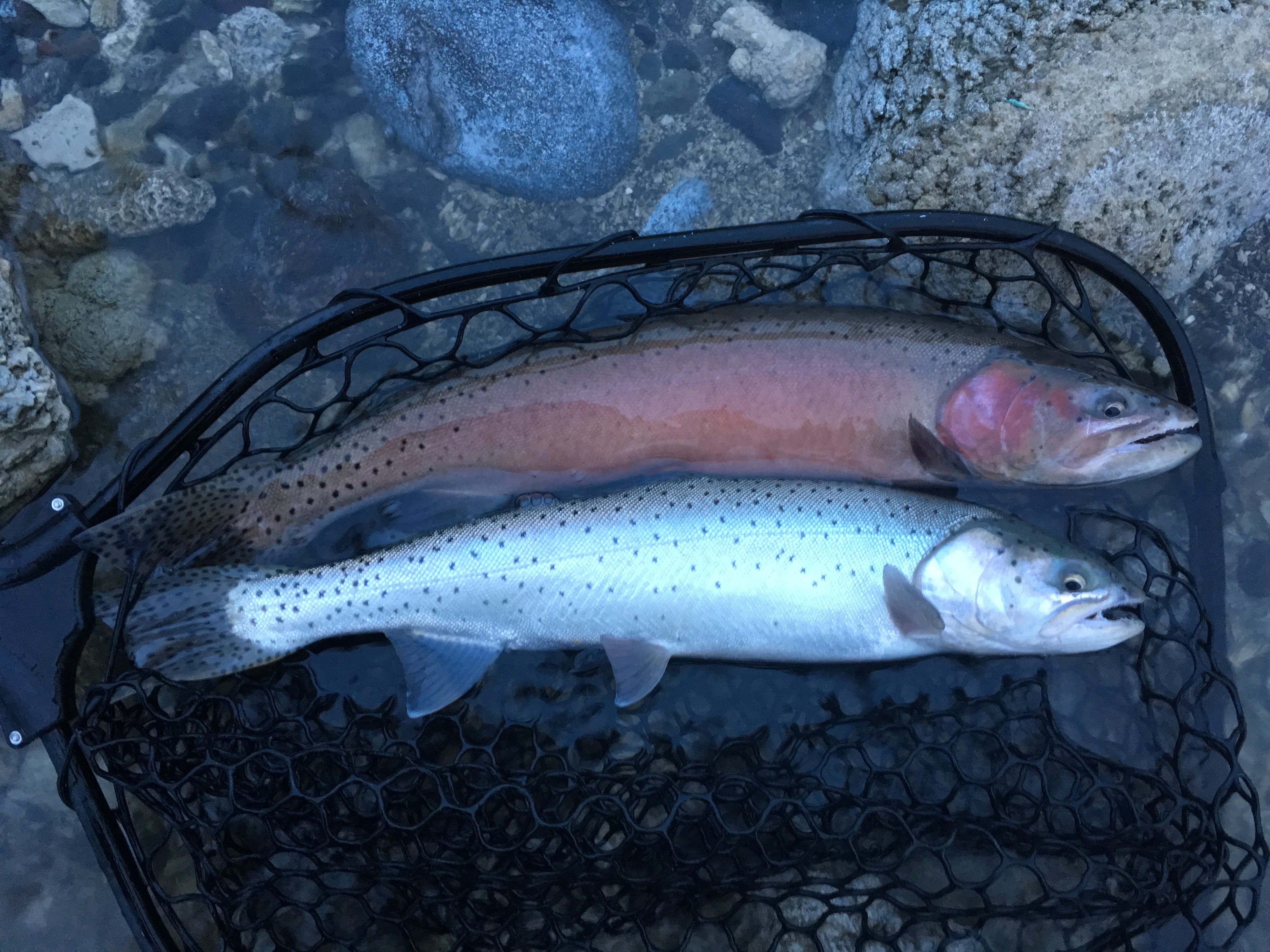 Lahontan Cutthroat Trout
Color variability between Cutts is tremendous. Note the Lahontan Cutthroat Trout buck on the top and the hen on the bottom.I first tried to catch Lahontans in Willow Valley Reservoir, a reservoir in Klamath County along the California border during the summer of 2016 (some six years after first catching Coastals). Unbeknownst to me, it had dried up the year before, and I was left catching Yellow Perch in the middle of the desert.
***
My second try came later that summer. On my way to fish the Malheur National Wildlife Refuge's short carp season, I decided to take the back roads to Burns. That took me through Denio, Nevada then north to the Alvord Desert.
Once you hit the Alvord Hot Springs, the pavement ends, and you're left on a northbound gravel road. It's easy to drive too fast on a road that wends its way between two massive mountain ranges.
It's also easy to hit one jackrabbit every two miles. I hit 13 (not intentionally) of the eared plaguebringers. I wondered if that was unlucky…
My destination was Mann Lake. While Apple Maps had Mann Lake and nearby Juniper Lake swapped, I eventually course-corrected.
I parked on the north shore and proceeded to fish my way around it. Seriously. Wading in the wet mud and shallow water, my legs were assaulted by some unseen menace. I'm still not sure if it was bugs or the alkalinity or what, but my legs were raw after I'd finished my loop.
It was weedy and shallow, and though I had a single trout chase a spoon up to the end of my rod and actually come out of the water after it, splashing just a yard from me, I got skunked. You can read about that trip at Mann Lake here: Taking the road less traveled from Herald and News.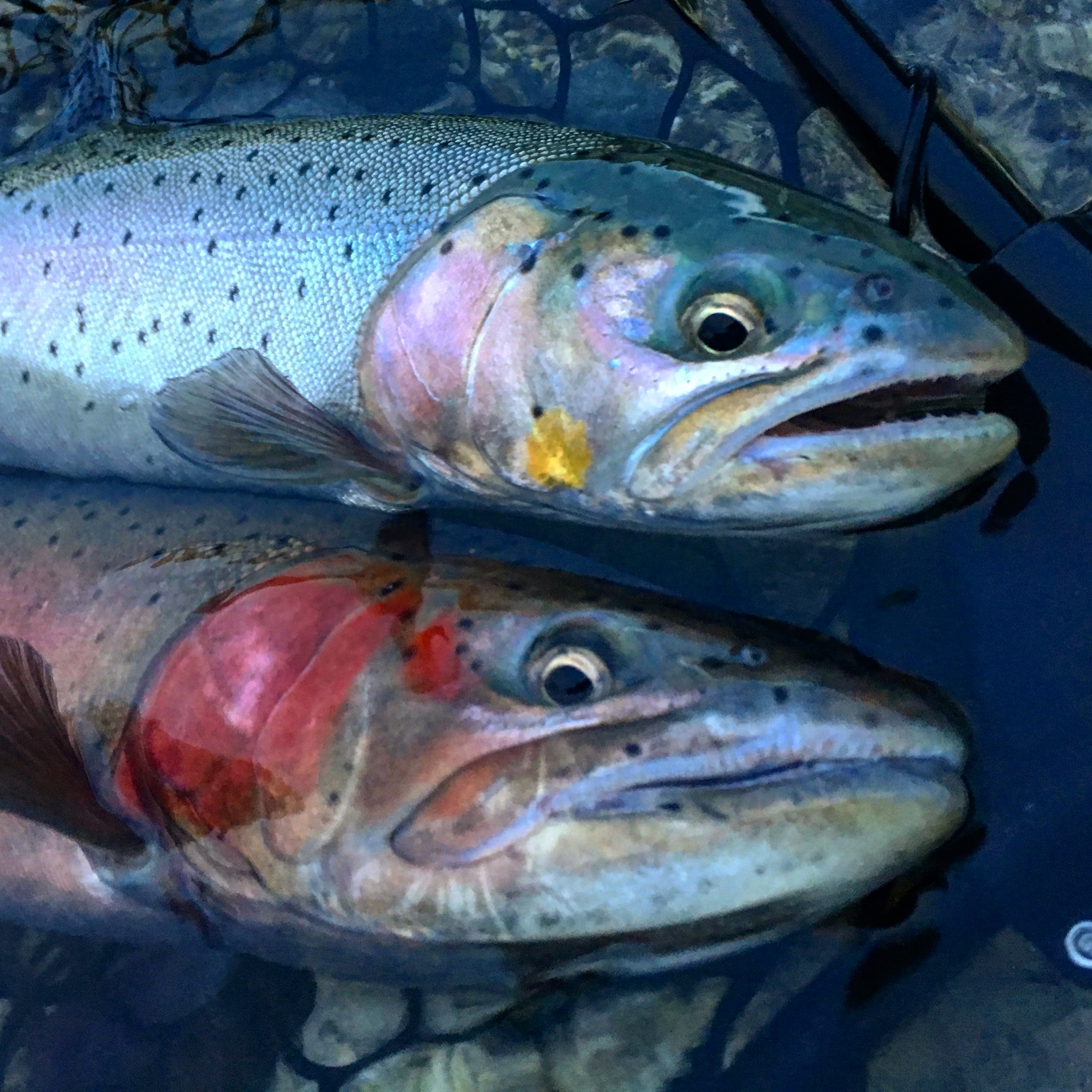 ***
The third time proved to be the charm. My friend, Ben Fry, and I were invited to join a group of Insta-famous anglers, including Bryan Glass (@wildtrout) and Brier Kelly (@brier_kelly).
This strain of Lahontan Cutthroat Trout almost went extinct before rebounding to become a success story, and you can read my article Second Chance at Survival from Herald and News here.
I won't go into too much detail about this trip on my blog, because I already wrote about it. Check out Fishing Pyramid Lake — in pursuit of Lahontan Cutthroat Trout from the Bozeman Daily Chronicle and Getting Reel with Bryan Glass from the Herald and News.
Bear River Cutthroat Trout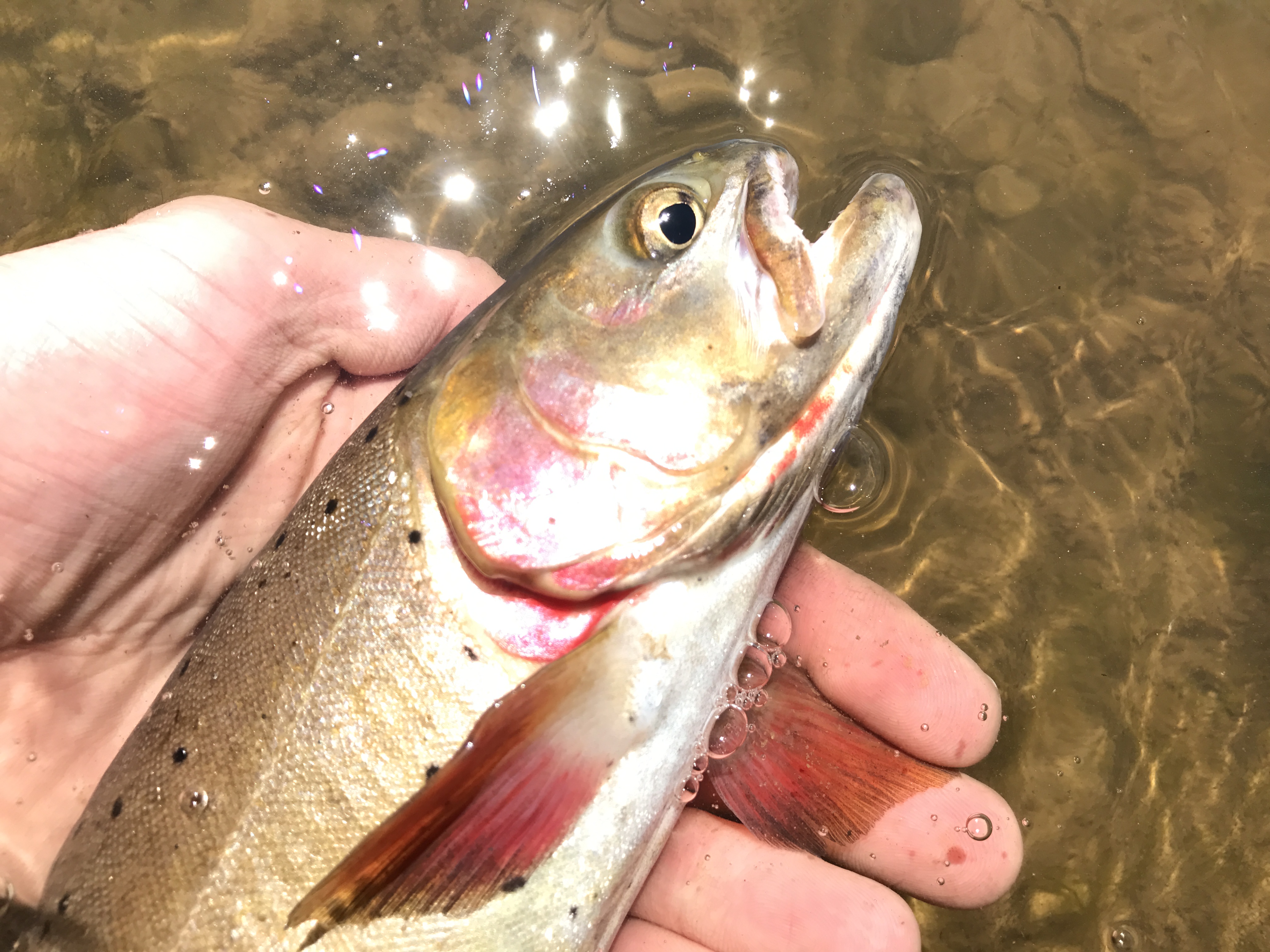 The pink-on-brown coloration of these fish is really unique. Coloration is one of the reasons Bear River Cutthroats are worth the trip to Utah or Wyoming.
My third subspecies of this fish was a surprise. I was hoping for a number of other Cutthroat subspecies as I traveled across Utah, Wyoming, and Nebraska on my way to Officer Training School in Alabama during the summer of 2017, but the Bear River Cutthroat was the last fish I expected to catch.
I actually wrote a pretty in-depth article about Bear River Cutthroat Trout for the Herald and News last year, so if you're in the mood for an interesting, science-heavy read, check out Testing the waters of Wyoming — Bear River Cutthroat.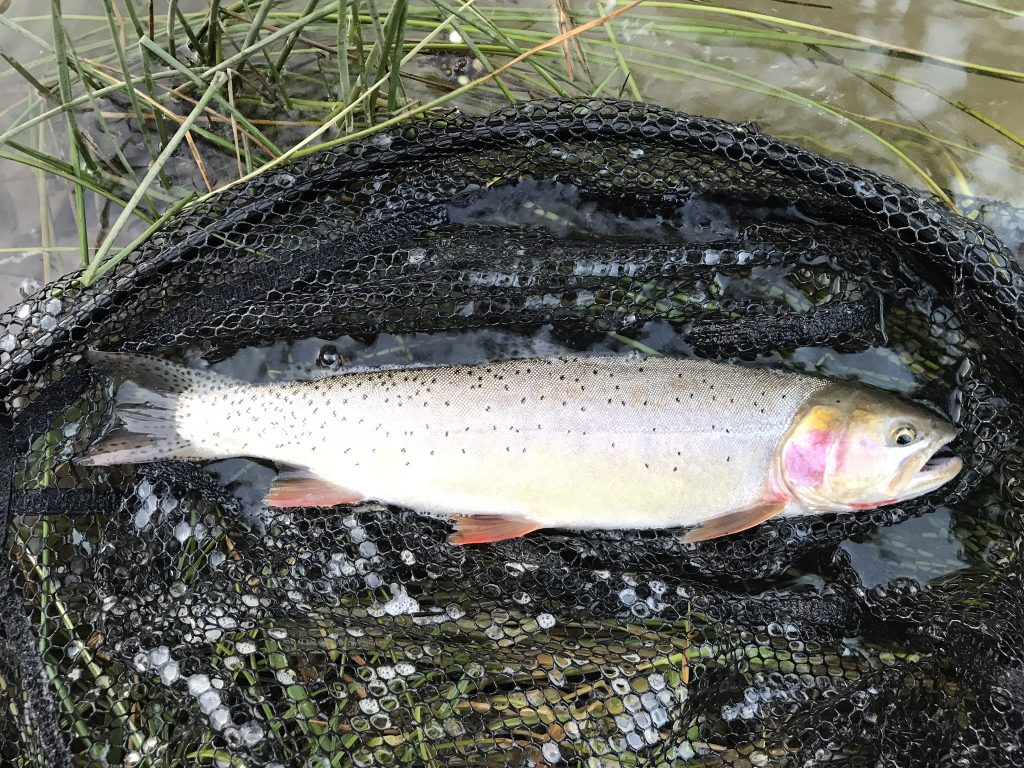 Yellowstone Cutthroat Trout
This was the first subspecies described by Westerners and the fish Lewis and Clark first wrote about in their journals, earning Clark its scientific name. If you've never dreamed of fishing for Yellowstone Cutthroat Trout like Lewis & Clark, the latter being the person for whom Oncorhynchus clarkii is named, then you're a dirty liar.
In an 1805 journal entry, Lewis wrote: "we caught a large number of  fine trout … the trout are the same which I first met with at the falls of the Missouri, they are larger than the speckled trout of our mountains and equally as well flavored."
He wasn't wrong. These fish are damn fine.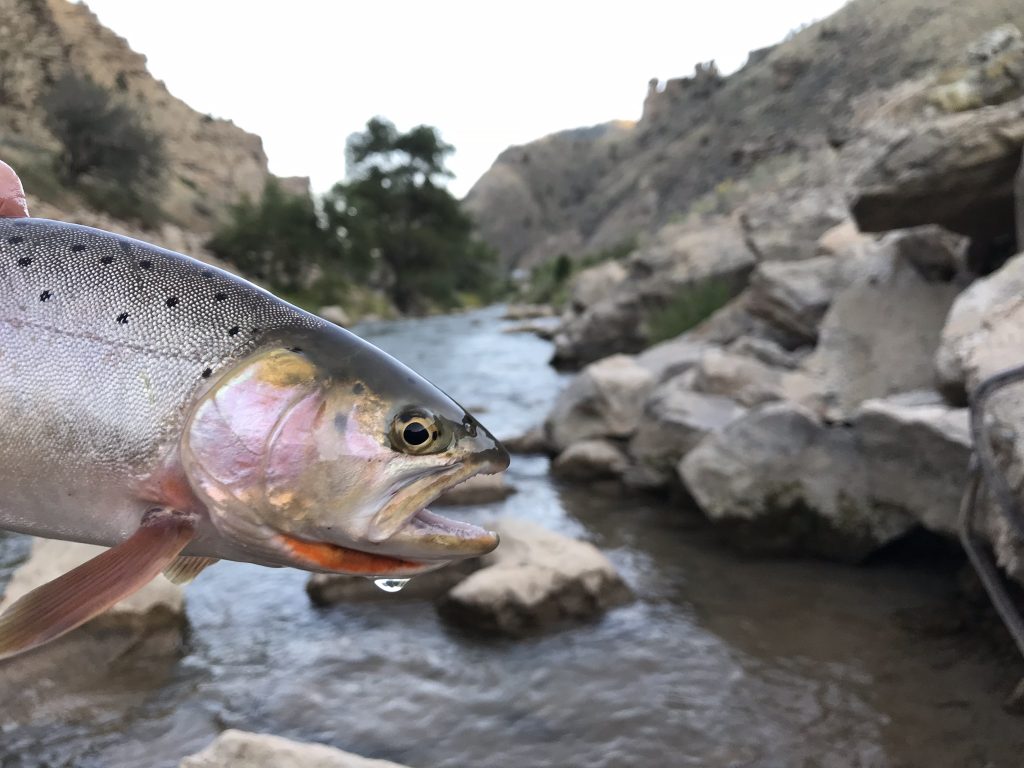 Tragically, Americans value planted Rainbow Trout more than Cutthroats. This has led to a displacement of cutties across much of their native range. As several subspecies go extinct (Alvord) or fight against that eventuality (Greenback, Paiute).
Interestingly enough, though, a handful of Cutthroat subspecies have actually expanded their native range. Yellowstone Cutthroat have been introduced to a number of places outside their native range not far from where the intrepid explorers first described them, including parts of Utah.
As I drove through Utah's Price River Canyon, I couldn't help but stop and fish. It looked so similar to Central Oregon that I had to wet a line.
I tied on a Rapala and immediately hooked into some fish. A little research, and I realized they'd all been Yellowstone Cutthroat.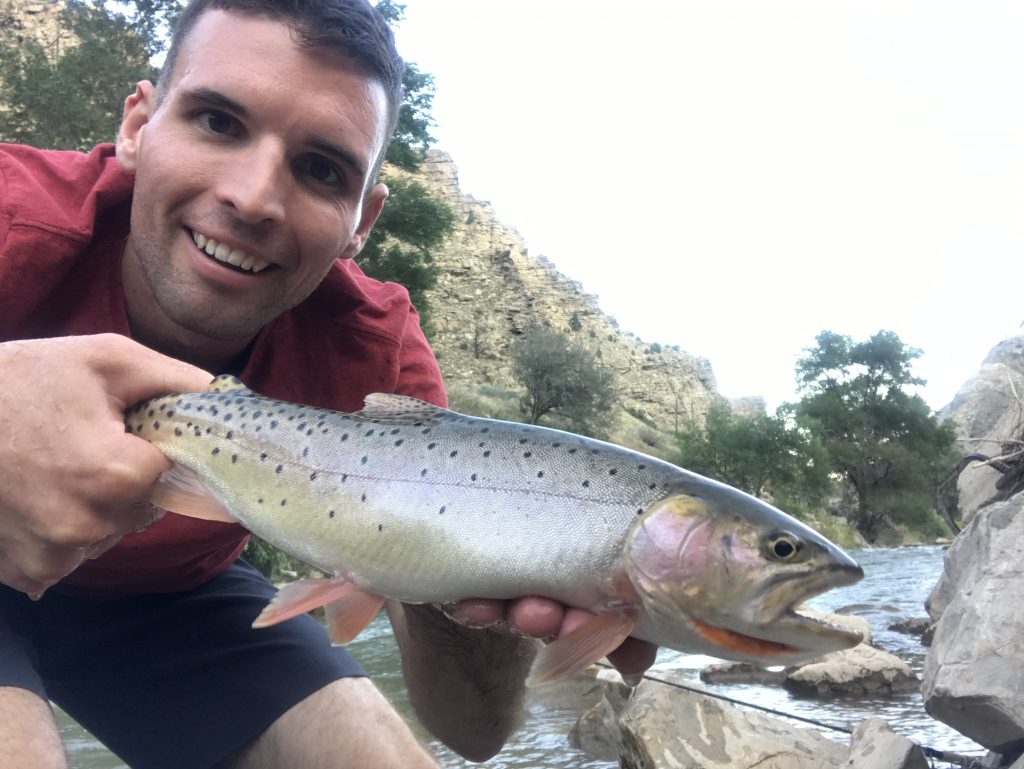 Subspecies #4.
Bonneville Cutthroat Trout

Some fish you don't set out to catch. I was actually targeting two species of suckers in Utah, floating half of a worm just above the riverbed when this gorgeous little missile bit.
It was my one and only Bonneville Cutthroat, and apart from a massive Brown Trout I lost shortly thereafter, it was my only fish that morning.
Like I said, I love these fish, and as I catch more subspecies, I'll add to this post.
#SpeciesQuest // #CaughtOvgard
Read the next entry in #SpeciesQuest here: Species #35 — Buffalo Sculpin.